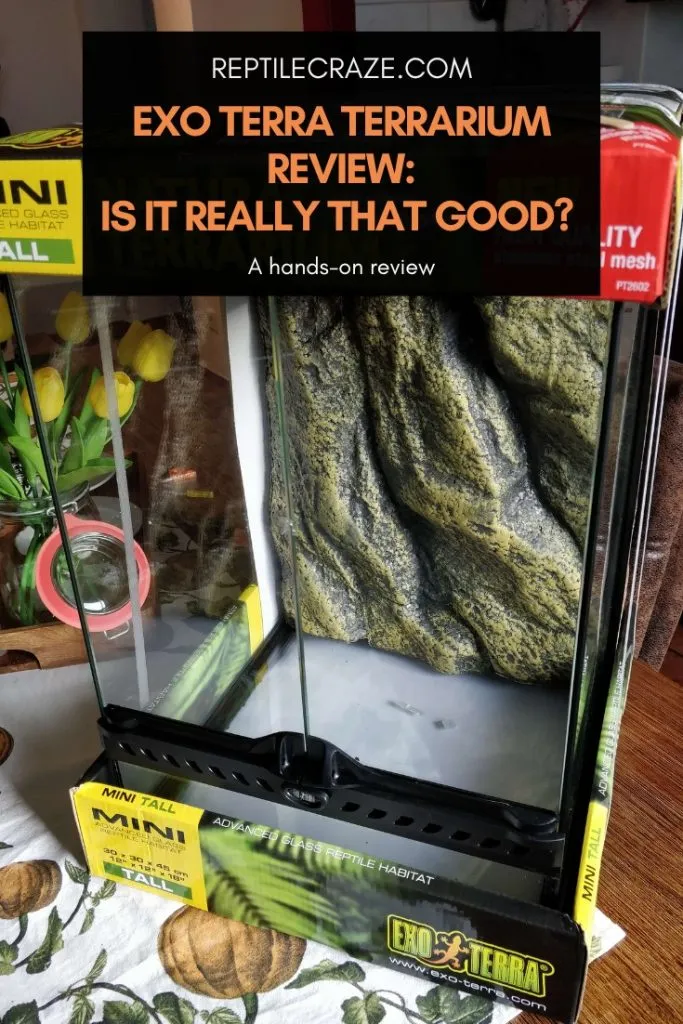 Should you get the Exo Terra Tank? A lot of reptile owners recommend this tank as it is easy to set up and has cool features. Is the Exo Terra Tank worth the hype?
The Exo Terra Glass Terrarium has everything you need to set up a complete tank for your reptile. It provides easy access for feeding and maintenance. The top and bottom are also ready for lighting and heating installations. It also has a special lock to prevent escapes.
In this review, we are going to talk about the features of the Exo Terra Tank as well as the advantages and disadvantages of using it. Keep on reading to find out if this is the right reptile tank for you!
Do We Recommend The Exo Terra Glass Terrarium?
Yes. We highly recommend it both for beginner and longtime reptile owners. The reason for this is that it is easy to set up and the tank features make it a breeze to maintain.
You can easily add the lighting of your choice on the full-screen top. This helps with ventilation as well as the proper penetration of UVB.
You can also remove the top completely if you want to decorate the tank or when you need to clean it.
At the back of the screen cover, there are inlets that are ready for other installations such as sensors, waterfalls, or heat wave rocks.
Its bottom is also mounted in such a way that you can fit an undertank heater on the Exo Terra terrarium if your reptile needs it. It also has enough space to accommodate a thick layer of a substrate.
The best part is, Exo Terra Glass Terrariums do not need to be assembled. Everything is already set up for you, all you need to do is to add other components such as lights, heating components, sensors, etc.
Features Of The Exo Terra Glass Terrarium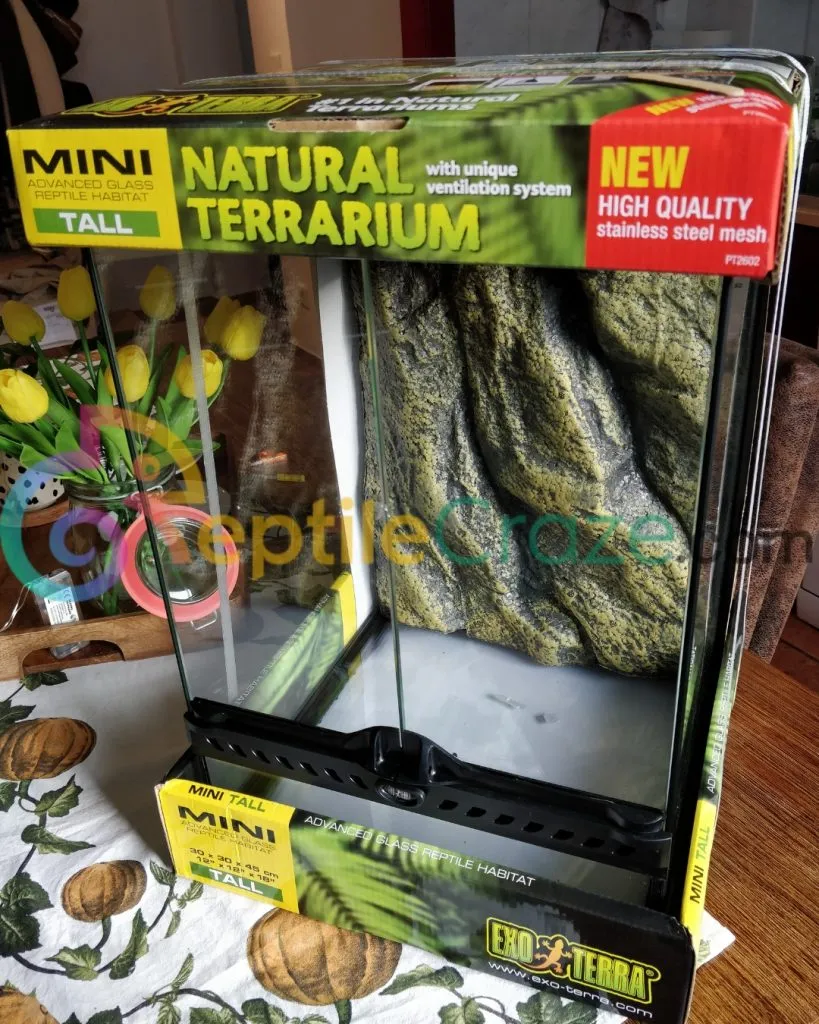 Let us first start with its packaging. When it first arrived, we noticed that the box that carries the tank still had a lot of space in it so the tank can move inside the box during delivery.
However, it was completely wrapped with bubble wrap so it is still secure. The package and the tank arrived without damage.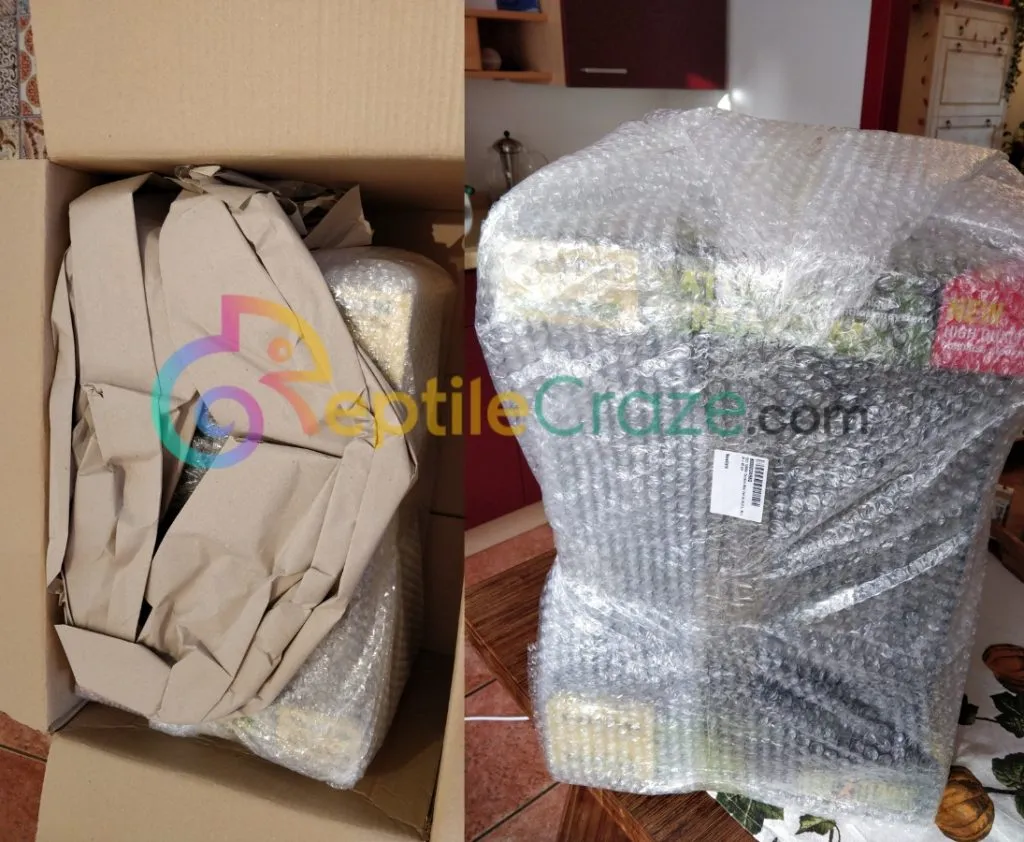 The terrarium comes with detailed instructions
Once you open the tank, it has instructions on the back. The instructions direct you on how the panels and locks work, how to remove the top screen, and how to make use of its inlets.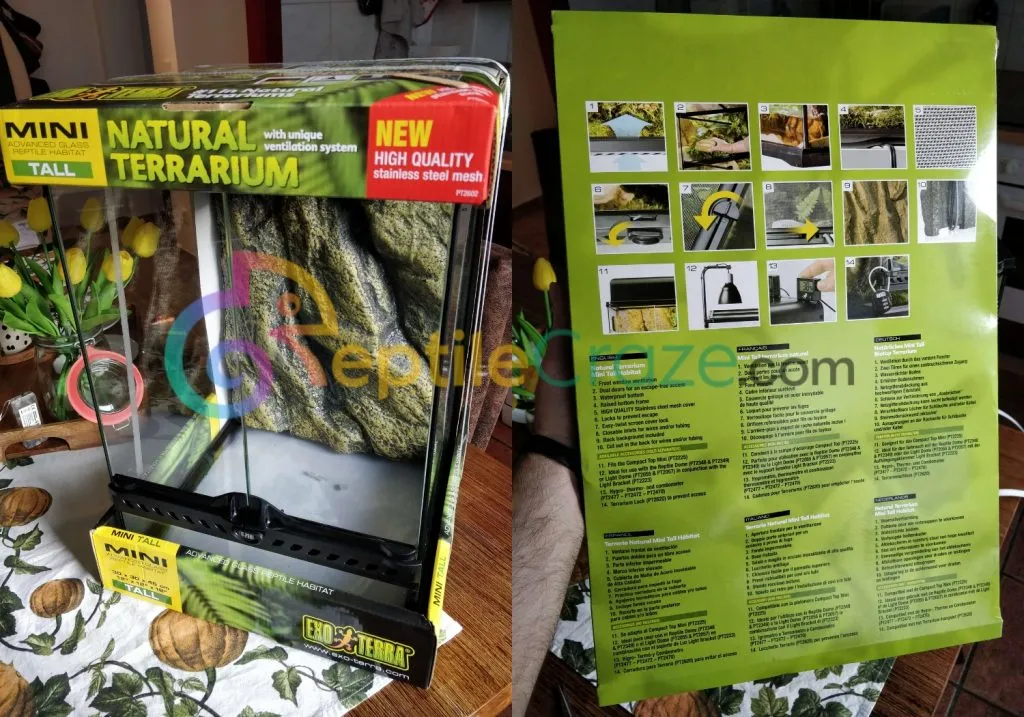 The escape-proof screencover
The full-screen top can be removed completely, and you can do so by turning the panels at the top.
You can easily set up the lighting in your tank by simply placing the bulb with a fixture on the screencover. We did it this way with an 80W mercury vapor bulb and had no problems whatsoever.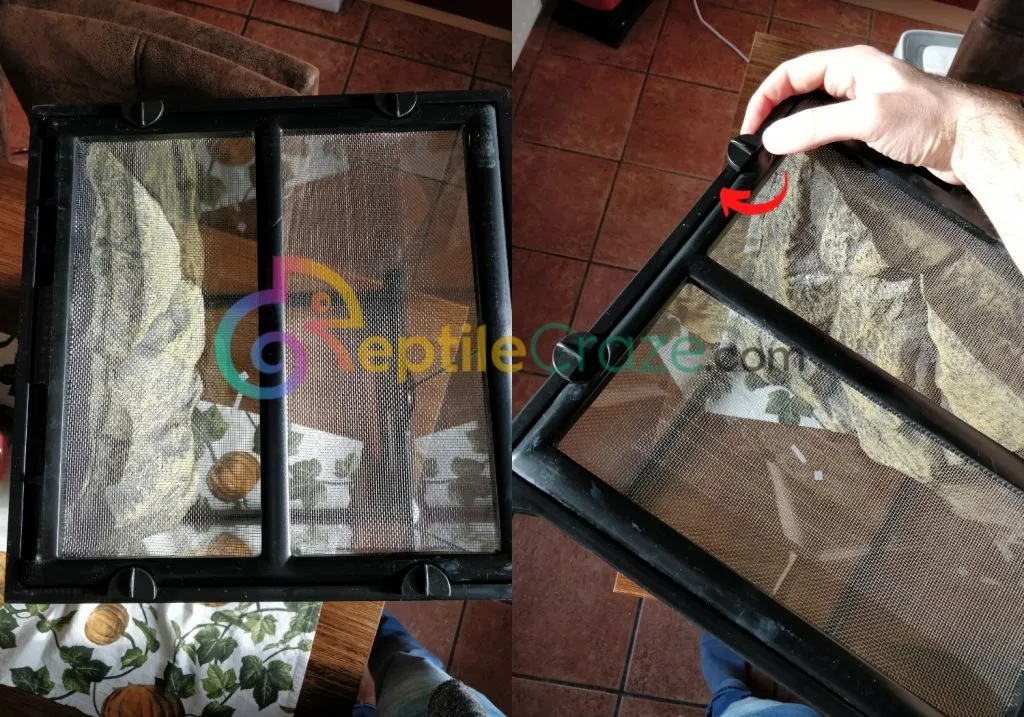 As you can see, the full-screen top cover is high quality. It looks clean, and the holes are fine enough to not let any feeders or reptiles escape.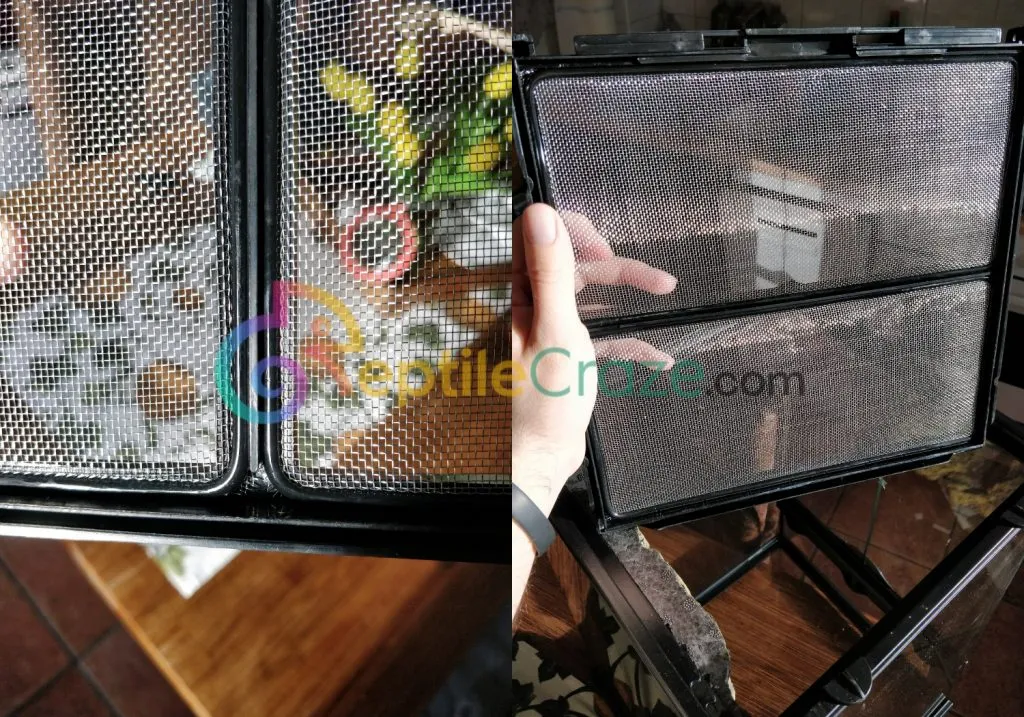 Another unique feature of the screen top is that it has holes for your cables. There is also a sliding panel installed that you can close so that even if you do not have any cables in your tank, feeder insects or small reptiles can't escape.
How To Open The Doors Of An Exo Terra Tank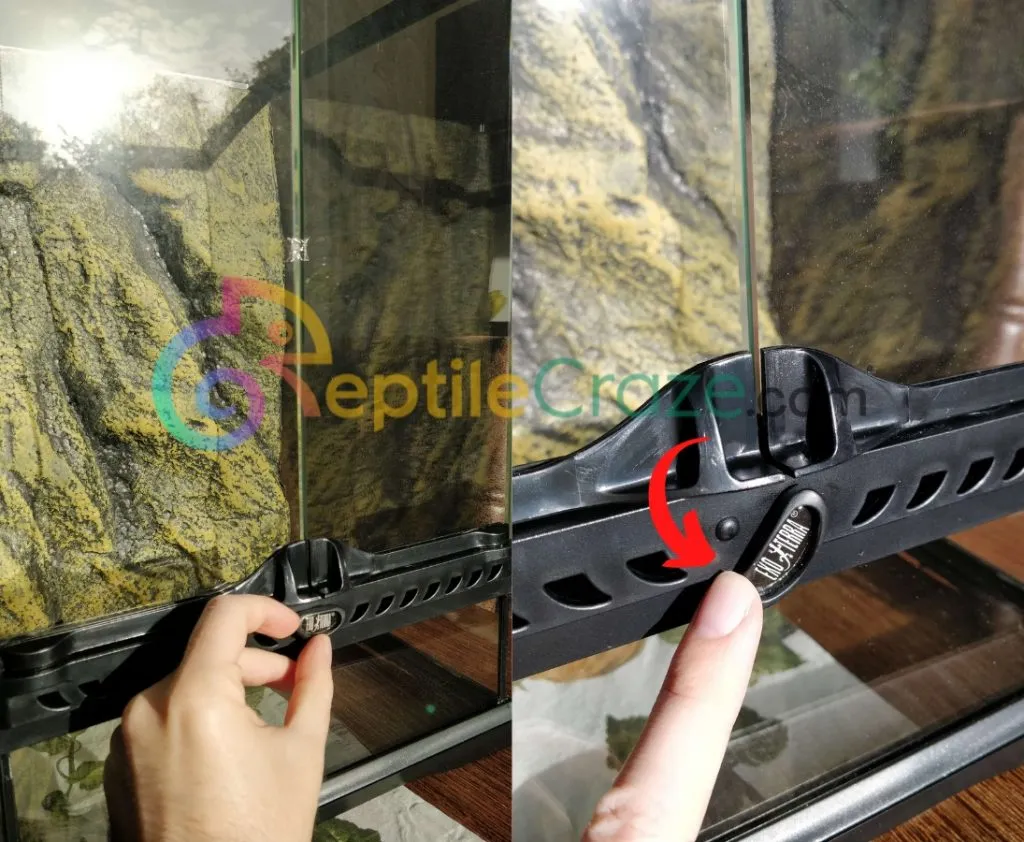 It can be tricky to open the doors at first. Initially, we had problems opening it as we were scared to break something.
However, upon reviewing the instructions, we found out that the doors can be opened by turning the Exo Terra plastic sign downwards.
Once opened, it does not make a sound. Upon closing it, it makes a clicking sound. However, the click is not that loud so we don't think that this could scare skittish reptiles.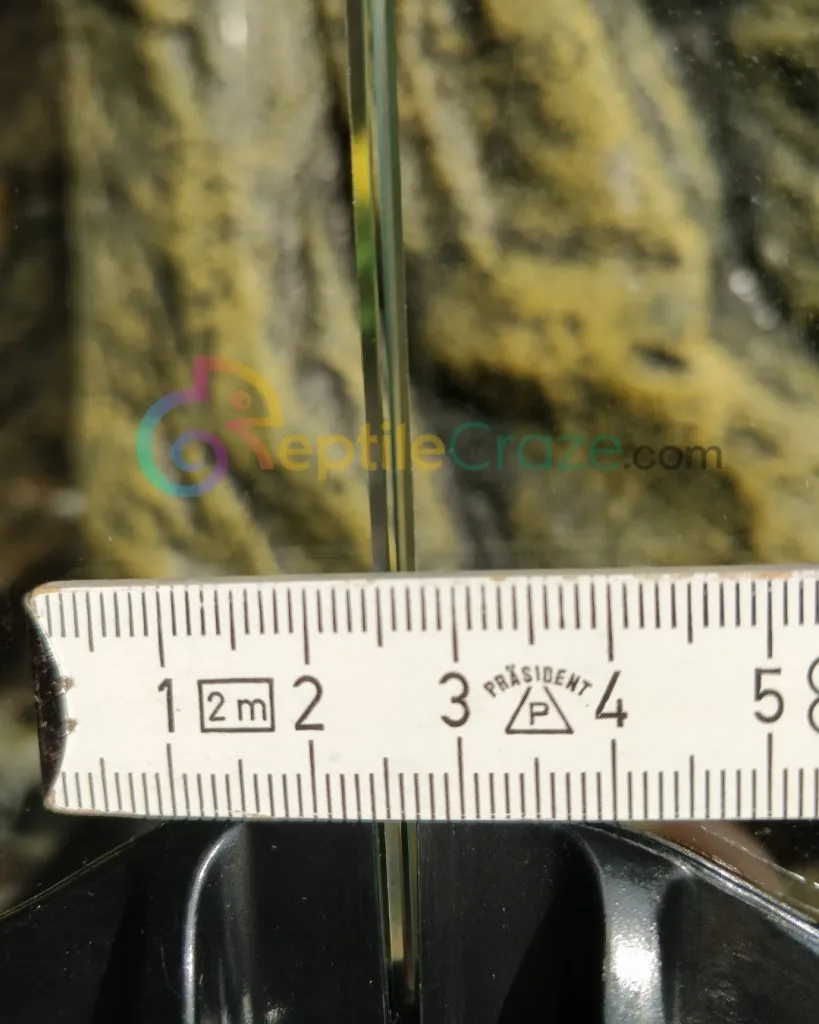 When closed, the gap between the doors does not even reach 1 cm. Therefore, it will be hard for reptiles and feeder insects to escape. Although, fruit flies can probably go through it.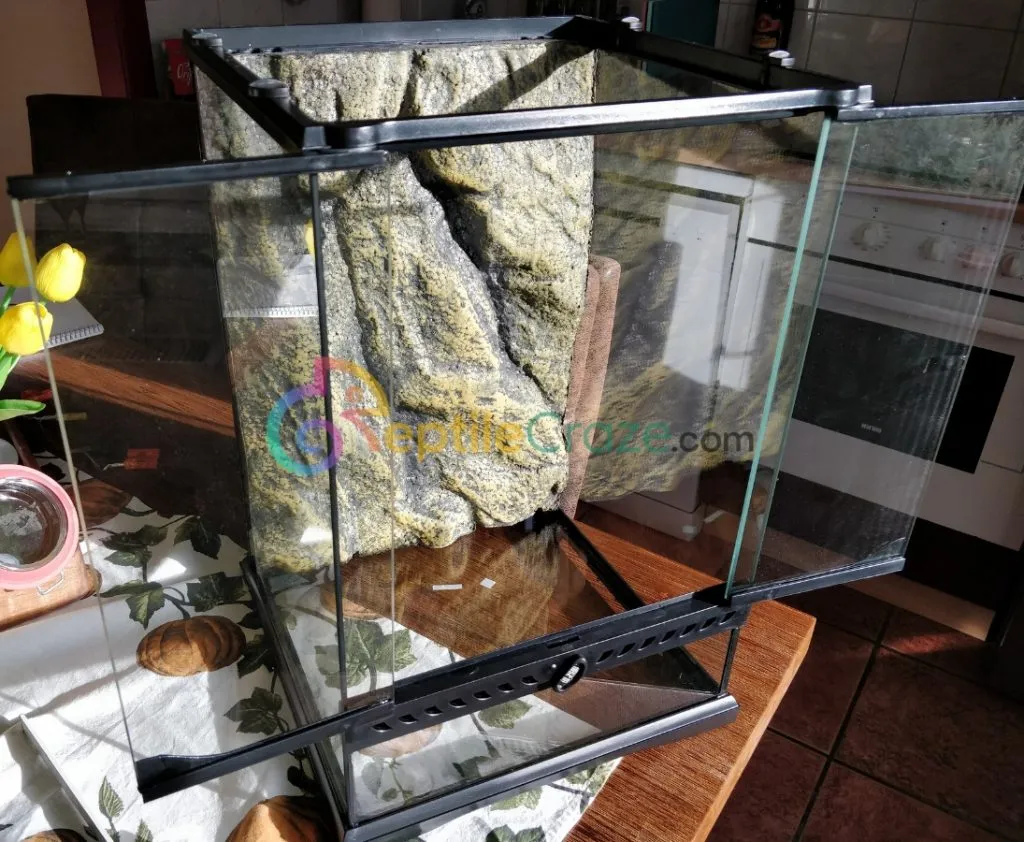 It looks like this when the doors are opened completely. You have enough space to set up the tank. It is also easy to reach up and down when you are cleaning it.
We were able to take out the ventilation. You just need to push down the three clips.
As you can see in the image on the right, the ventilation holes are extremely small, so no reptile could escape here, and probably no feeder insects. Maybe fruit flies.
How To Take The Glass Doors Off The Exo Terra Tank
People often ask if it is possible to take out the doors. We were not able to remove it. However, you can remove both doors completely.
All you have to do is to pull up the bottom main attachment of the door. After exerting a bit of force, it will pop up and then you can pull it out.
Putting it back is also easy. Start by sliding the top attachment and placing it on the hole at the top. Next is to slide the bottom attachment through the ledge that leads to its hole and pop it back in.
The Exo Terra Terrarium Background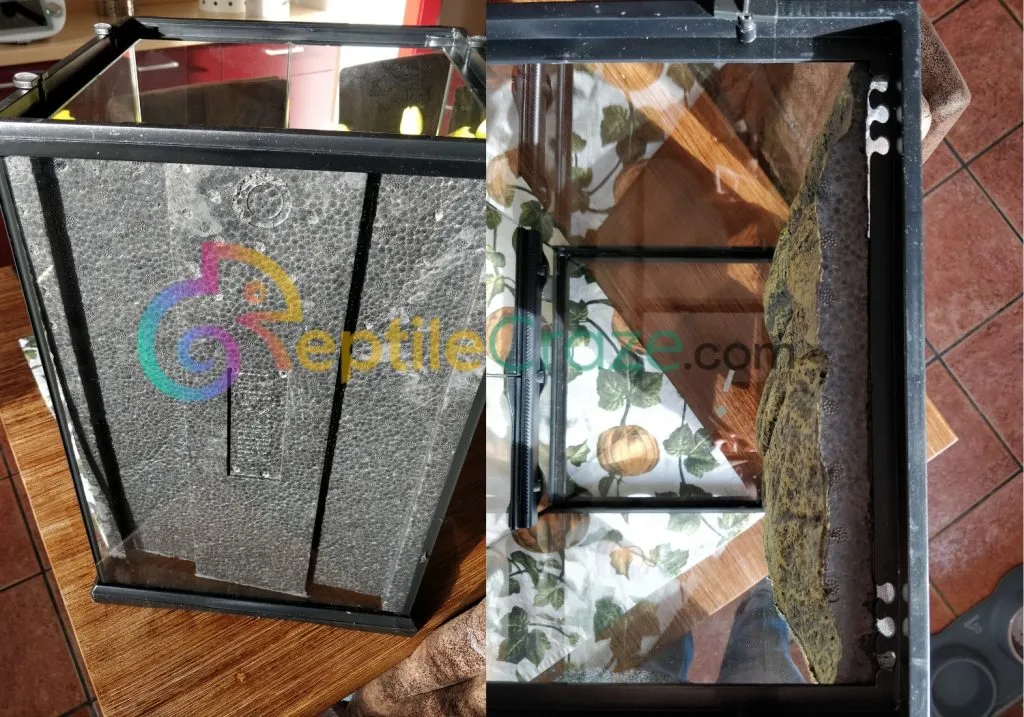 The background is made of styrofoam. It has some spacings on the backside so that you can fit cables in there.
For example, cables from thermometer probes, foggers, etc. As you can see in the image on the right, the frame of the tank also has some holes that can hold 6 cables in total.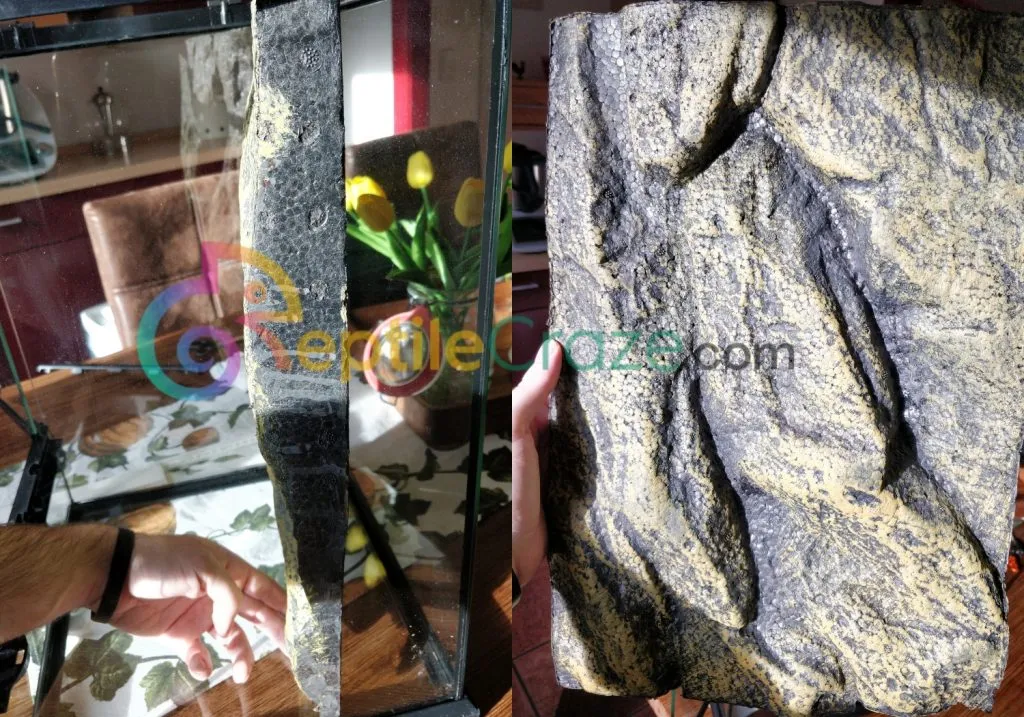 The background is not glued to the back of the tank so you can easily take it out without damaging the background itself.
Unfortunately, you can clearly tell that it is styrofoam so it does not really look realistic. However, some people still make use of it as it dries fast and can help with humidity.
The Exo Terra Terrariums Comes In Many Sizes
We tested the 12″ x 12″ x 18″ but you can get this tank in many sizes. Have a look at the table below:
Exo Terra Tank Size
(in inches)
8″ x 8″ x 8″
8″ x 8″ x 12″
12″ x 12″ x 12″
12″ x 12″ x 18″
18″ x 18″ x 12″
18″ x 18″ x 18″
18″ x 18″ x 24″
18″ x 18″ x 36″
24″ x 18″ x 12″
24″ x 18″ x 18″
24″ x 18″ x 24″
24″ x 18″ x 36″
36″ x 18″ x 12″
36″ x 18″ x 18″
36″ x 18″ x 24″
36″ x 18″ x 36″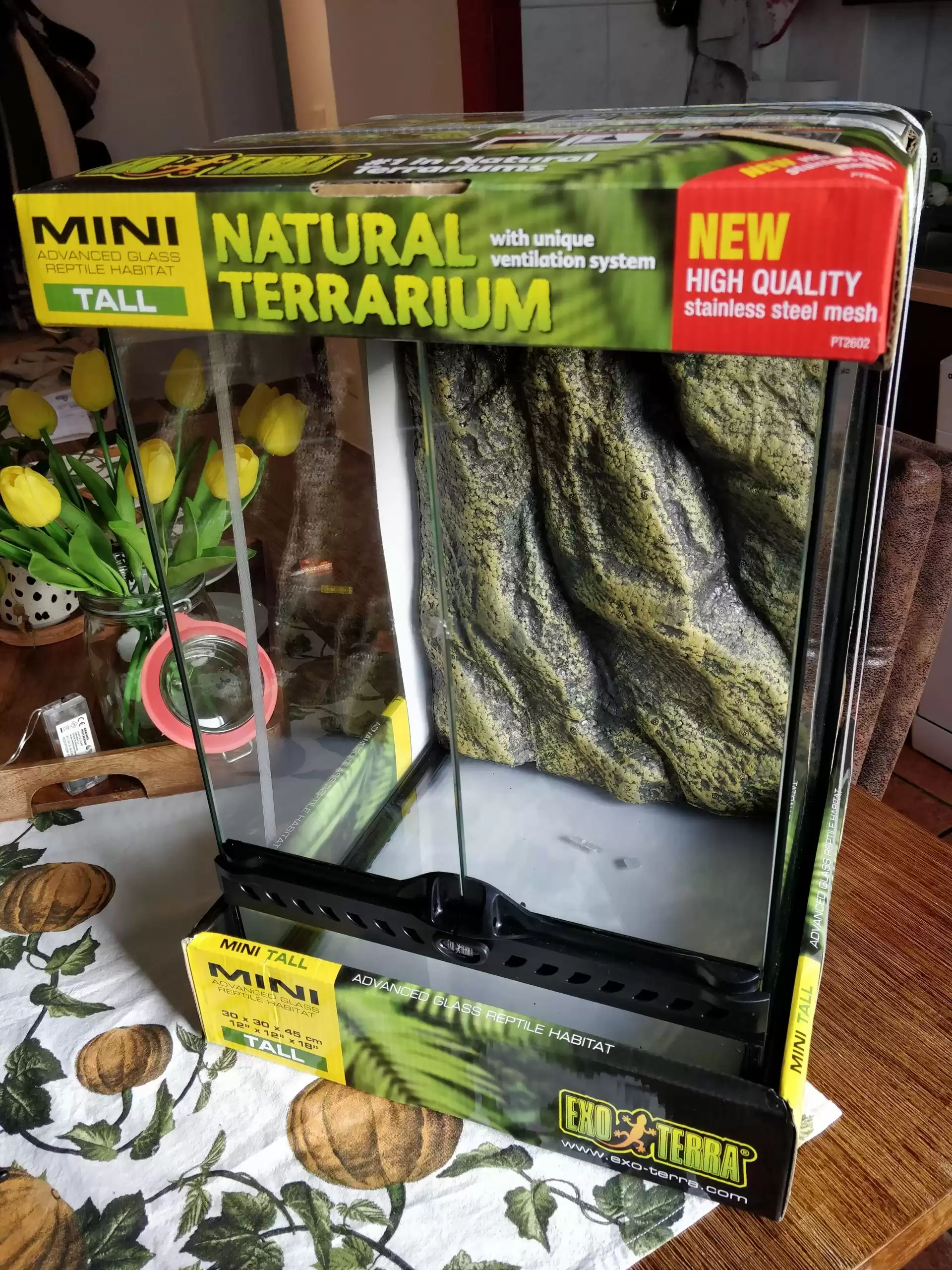 Are Exo Terra Glass Terrariums Water Proof?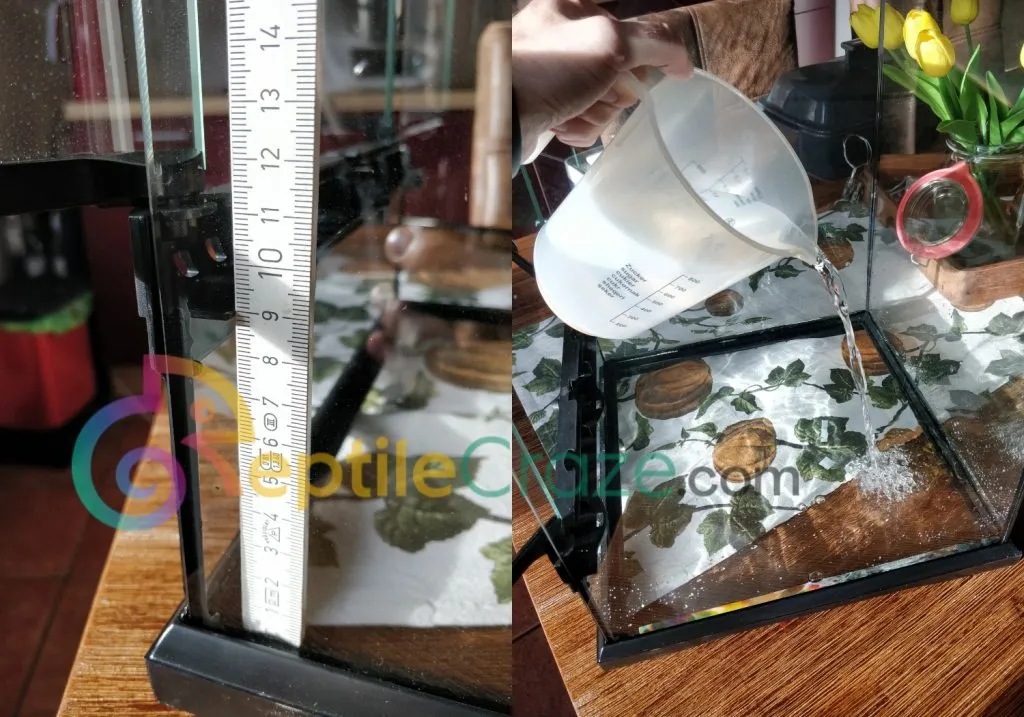 Many people ask if the Exo Terra tanks are waterproof, so we filled our test tank with water.
The tank that we tested was 30×30, and it measures 9 cm from the bottom up to the ventilation. When we placed water in it, we could only fill it to 8 – 8.5 cm.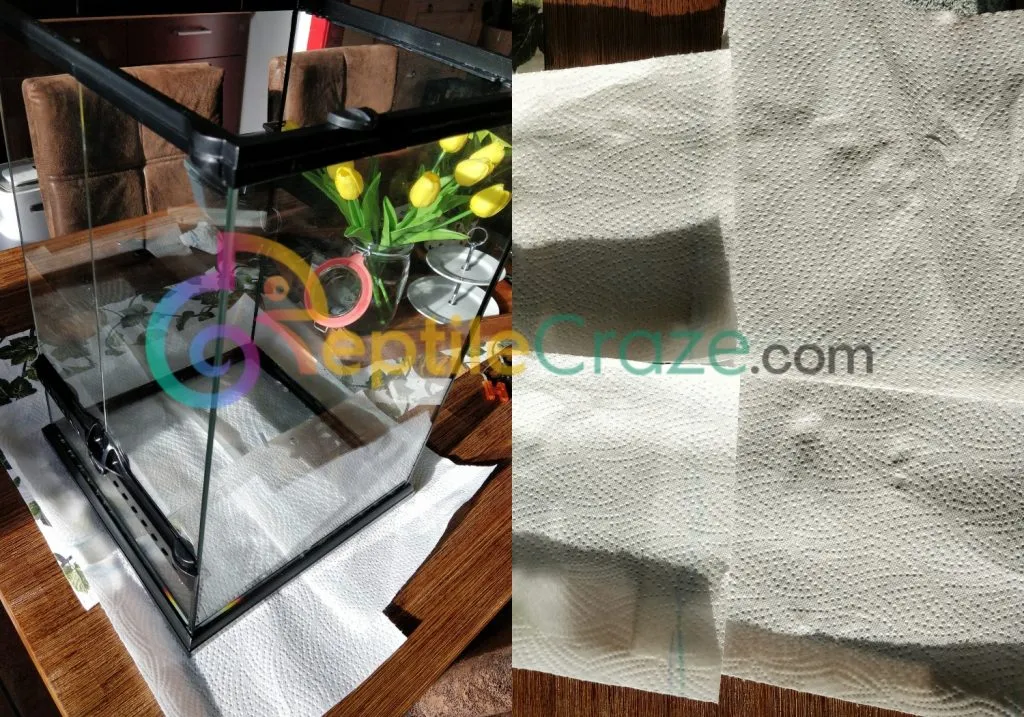 In our test, the tank was absolutely waterproof. We put the tank on a few paper towels after filling some water in it, and as you can see, everything stayed dry.
Are Exo Terra Glass Terrariums Stackable?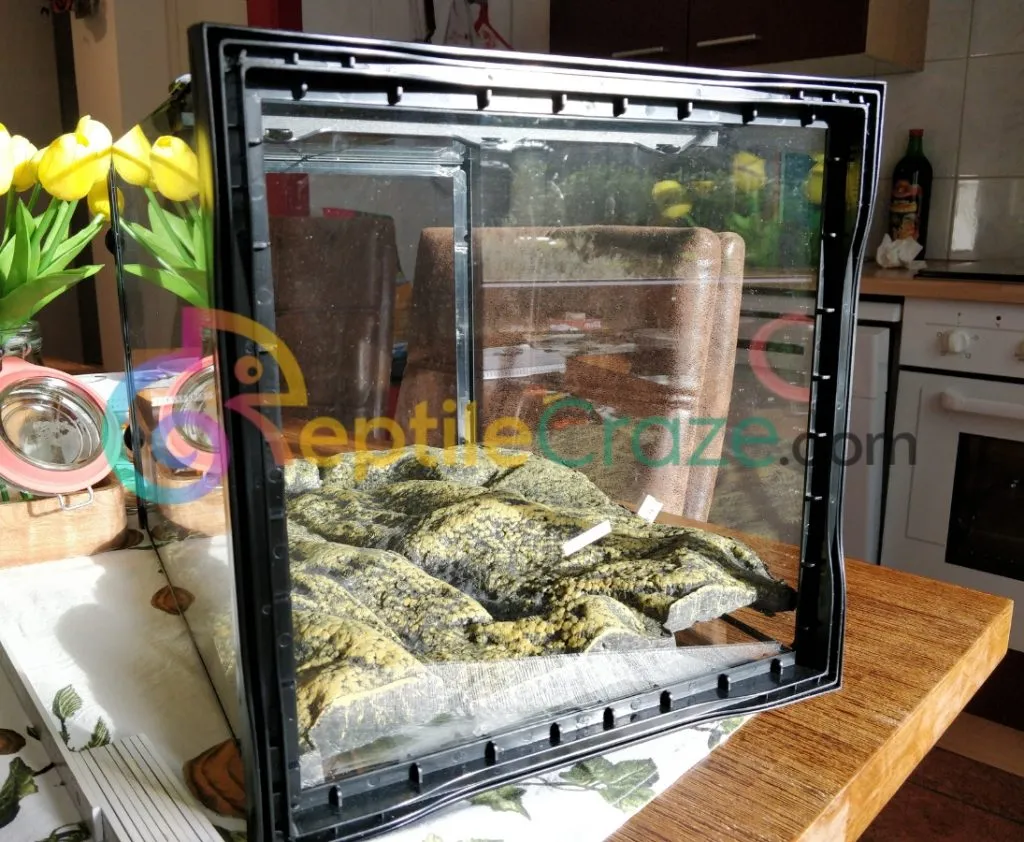 Even if the various sizes of the Exo Terra Terrariums fit well together when stacked on top of each other, this should not be done.
Their glass tanks were not made to be stacked. It is not assured that the top screen can support the weight of another tank, may it be a smaller one.
Some people have successfully stacked the tanks by reinforcing the top with wood or cardboard, but we do not suggest doing the same.
It is better to get enclosures that were made to be stacked like the Exo Terra Faunarium or Exo Terra Breeding Box.
How To Maintain The Humidity In An Exo Terra Terrarium?
The humidity can be a hassle to increase and maintain with this tank as its ventilation spots and the screen cover are tools for continuous airflow.
However, you can do the following tips and tricks to maintain humidity in the tank:
Some people use clear packing tape on the screen cover. Make sure to tape from the underside of the screen so that chemical fumes will not emanate into the tank.
When you place a heat lamp on the back side of the cover, you can use tin foil. Simply cut a hole where your lamp is placed.
When misting the tank with tin foil and packing tape, the humidity level lasts longer.
You can try misting once in the morning and once at night.
Use a substrate that can maintain humidity (sphagnum moss, reptile bark, coconut husk, cypress mulch)
Pros
Well-made and high quality
Has cable-ready holes and fittings
Can hold water
The air vents are excellent for most reptiles
Comes with a background
Reptiles and feeder insects cannot escape
Comes with a full-screen cover
Has glass doors that can be opened and removed completely
Comes in an array of sizes
Arrived complete and without damage (ordered online)
Cons
There is excess silicone found in some areas but is still manageable upon initial cleaning
The background looks fake and cheap
The background can melt when exposed to extreme heat from heat lamps
Can be expensive
Not stackable
The front door latch may be a bit small for some people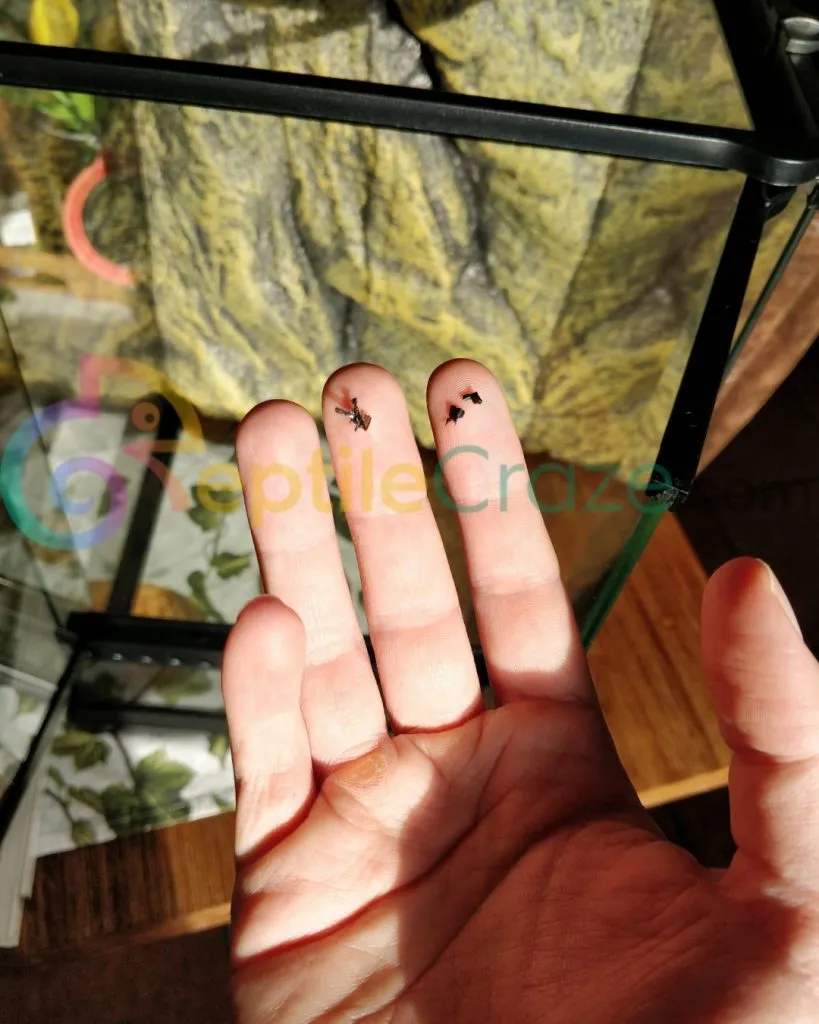 With regard to our concern about the excess silicone, we found some of its parts falling off while reviewing the tank. Keep in mind that the silicone per se is not falling off, the excesses were the ones that came off.
The excess silicone came off of the edges. We think that this is not a big deal as they can be completely removed upon cleaning the tank before putting your reptiles inside.
Where To Buy Exo Terra Terrariums?
You can find good deals on Amazon as Exo Terra is selling most of their products there. You can click on the button below to see some good deals.
If you are from the UK, you can check out Swell Reptiles. Their Exo Terra Terrariums are also reasonably priced. They usually have discount sales on a specific size of Exo Terra tank.
Why Choose Exo Terra Glass Terrariums Over Other Tanks?
It is best to go for Exo Terra Glass Terrariums when you do not have the time to assemble the whole tank or if you do not want to get a plain fish tank (which isn't recommended for reptiles anyway).
With this tank, you do not need to set up everything. You just have to clean it and add your decorations, lighting and heating elements.
Compared to other tanks, the Exo Terra tank also assures you that you will not have escapees, may it be your reptiles or feeder insects. All you have to do is to secure the screen cover and close the glass doors at the front.
Conclusion
The Exo Terra Glass Terrarium is a great tank for your reptiles. Beginner and advanced reptile owners will appreciate its high-quality design and ease of use. It is a sturdy and secure tank that does not need any assembly.
Latest posts by Pierre And The ReptileCraze Team
(see all)