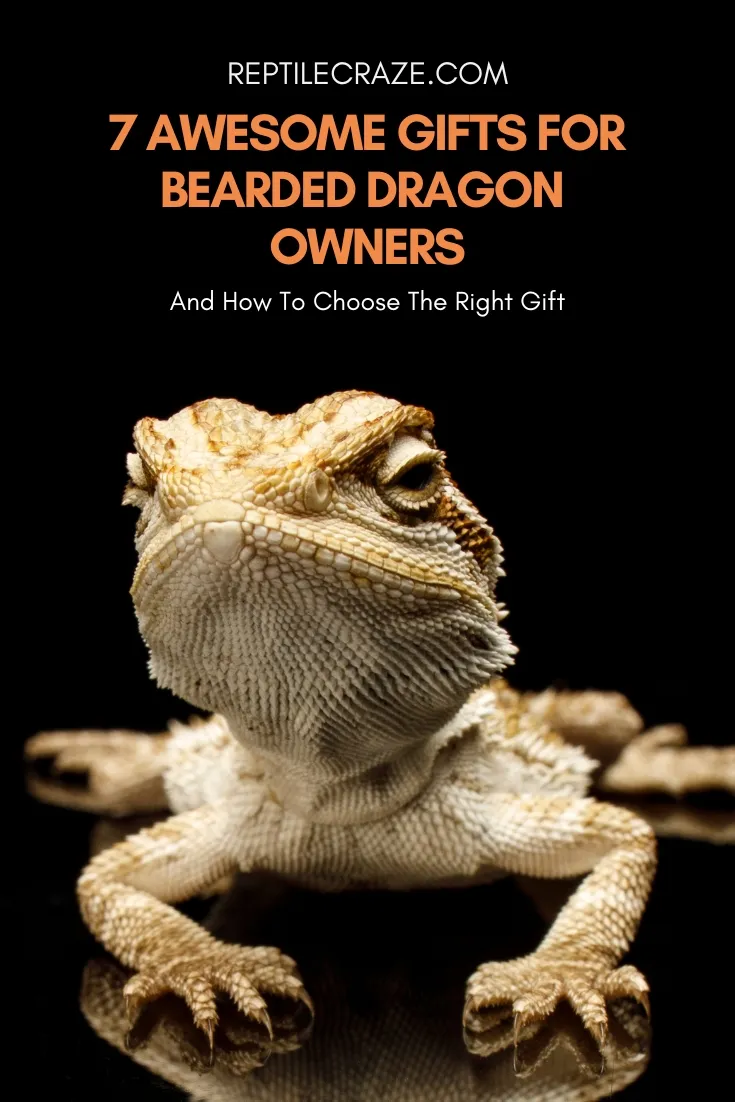 Bearded dragons are a popular pet choice among reptile enthusiasts. If you know someone who owns a bearded dragon, then you know how much they love their little scaly friend.
And what better way to show them that you care than by getting them a gift that celebrates their love for their pet? If you're looking for gift ideas for dragon parents, this guide can help.
We've compiled seven fantastic gift options for beardie owners, so you can scroll the list below and pick one that suits you best!
Suitable Gifts For Bearded Dragon Owners
Let's get right into it!
1. The Bearded Dragon Manual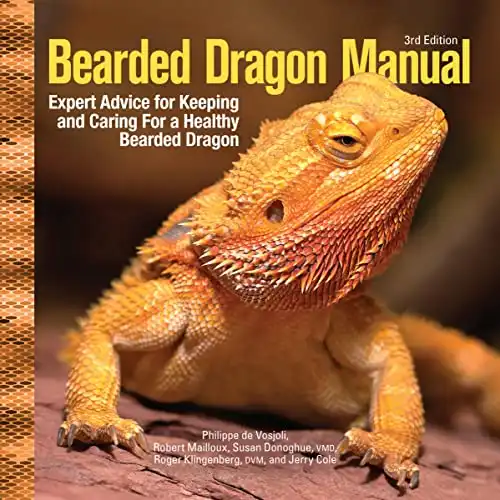 First-time pet parents are full of questions and doubts about how to best care for their reptiles. You can help save your bearded dragon-owning friend time and effort by gifting them The Bearded Dragon Manual by CompanionHouse Books.
The book is authored by several herpetoculture specialists and veterinarians.
It includes detailed information on habitat, diet, behavior, and illness. There's also a bonus section of FAQs for the more curious bearded dragon parents.
What we liked most is that the book is available in paperback and Kindle formats. That means you can choose the variation that you think will suit your friend or family member the most.
Pros
Available in two formats
Highly useful for first-time owners
Detailed information on vital topics (habitat, diet, illness)
Accessible on smartphones via the Kindle app
Cons
May not be suitable for experienced bearded dragon owners
Pricier than other books on the market
Tip: If you don't end up getting the Bearded Dragon Manual, simply take our bearded dragon care guide here. It's free!
2. Exo Terra Solar-Glo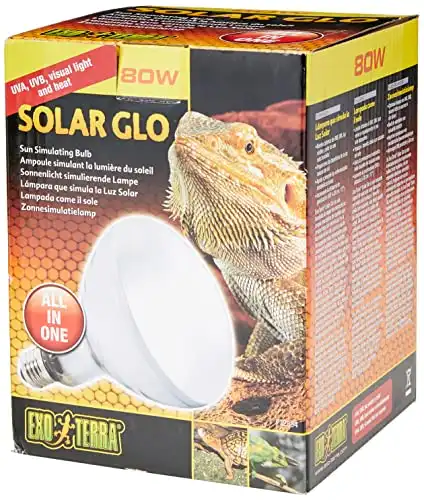 UVA and UVB lights are vital to all bearded dragon terrariums, making them a thoughtful gift for reptile owners.
We have reviewed the Solar Glo here and found that it is one of the best bulbs you can get!
The Exo Terra Solar-Glo Mercury Vapor Bulb has several features to recommend it. The lighting combines UVA + UVB lighting, making it the closest beardies can get to natural light in indoor tanks.
Moreover, since the light also functions as a heating source and visual light, it's ideal for small-to-medium tanks.
Solar-Glo is available in three wattage variations and includes a safety mechanism to ward off fire hazards due to overheating.
If you're considering buying Solar-Glo, pairing it with the Exo Terra Reptile Dome will make for a complete gift.
Tip: Get the 80W-version for rather small tanks and the 160W-version for really big tanks.
Pros
Provides a steady UVB output
Ideal for tanks that don't have too much space
Doubles as a heating and visual light source
Comes close to mimicking natural sunlight
Cons
Can't be set up at an angle
Shelf life may not be as long-lasting as other UVB lamps
3. Zoo Med ReptiTemp Digital Infrared Thermometer
Being able to track terrarium temperatures is essential to keep bearded dragons healthy and comfortable. That's why the Zoo Med ReptiTemp Infrared Thermometer would make an excellent gift for any dragon owner.
The thermometer includes a user-friendly display screen and is ideal for monitoring basking areas and thermal gradients.
Unlike thermometers placed inside enclosures, this product doesn't require being fitted. It features a temperature range of -28 to 230 °F and can be switched from Fahrenheit to Centigrade.
Pros
Ergonomic display screen
Includes a wide temperature range (-28 to 230 F)
Comes with a min/max function
Doesn't require in-tank placement
Cons
Not suitable for glass tanks
Temperature readings might fluctuate based on the surface type
4. PENN-PLAX Reptology Lizard Lounger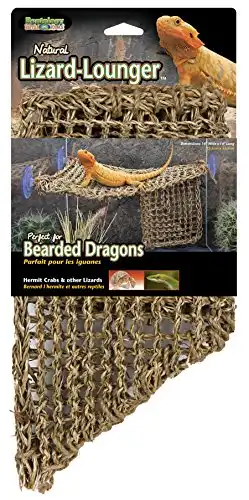 Beardies might not be the most efficient climbers, but they do enjoy exploring their tanks and basking. That's why experts often recommend equipping dragon enclosures with hammocks.
The Lizard Lounger by Penn-Plax is a sturdy hammock made from seagrass fibers. Measuring 18″ x 11″, the lounger is designed to fit in tank corners with three 2.5″ suction cups.
The lounger's triangular design, complete with a fiber ladder, makes it highly suitable for basking spots, as it allows the dragon to self-regulate temperature by moving closer to or away from the UVB light.
Pros
Includes organic fibers safe for dragon skin
Suitable for all bearded dragon enclosures
Adjustable fiber ladder
Appropriate for plastic, acrylic, or glass terrariums
Cons
Seagrass fibers may develop mold if not cleaned regularly
Too large for 10 to 30-gallon enclosures
5. PENN-PLAX Reptology Cave Hideout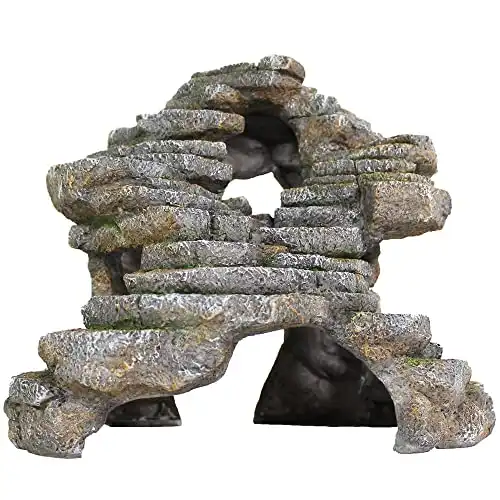 The Penn-Plax Reptology Shale Scape Step Ledge and Cave Hideout and made of resin, making them durable and safe for bearded dragon enclosures. The non-porous nature of resin also means the cave is easy to clean and maintain.
The hideout is available in various sizes, from small to extra-large, making them perfect for juvenile dragons. The design features four entry and exit holes, so a lizard pet will have no difficulties using the cave.
Finally, the hideout can double as a basking spot and be highly useful for smaller tanks.
Pros
Made from non-porous and durable resin
Functions as a hiding and basking spot
Features four entry and exit routes
Can be cleaned with soap and water
Cons
The basking platform isn't very spacious
Not suitable for adult bearded dragons
6. Exo Terra Cricket Pen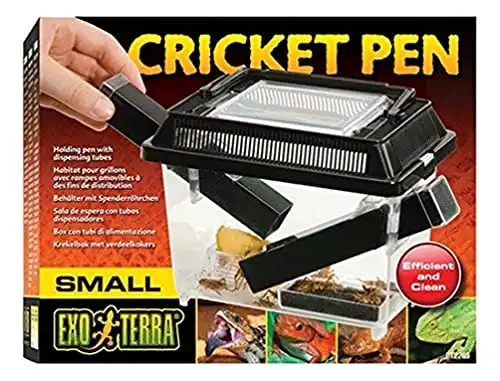 Any dragon parent will tell you that beardies love eating crickets. Additionally, as a feeder option, crickets are nutritious and help keep dragons stimulated by hunting live food. However, storing live crickets is a tricky affair.
The Exo Terra Cricket Pen is perfect for bearded dragon owners looking for a problem-free way to keep live crickets. The cricket care kit comes equipped with a food dish and water bowl with disposable foam to keep the insects from drowning.
Best of all, the kit features two pens (or feeding tubes) that make transporting crickets from the pen to the enclosure extremely easy. This is highly useful for owners who dislike touching the bugs.
We bought and tested the Cricket Pen ourselves here, and it is great!
Pros
Can house multiple crickets of different sizes
Features a water bowl sponge to keep crickets from drowning
Feeder tubes dispense crickets easily
Easy to setup and maintain
Cons
Unsuitable for small or pinhead crickets
Handling the cricket pens may be problematic for newbies
Bearded Dragon Sling Carrier
Socialized beardies generally love being held and cuddled. But it's not possible to carry your dragon around all the time. That's where the sling carrier by SINKIY can come in handy.
The carrier is made from breathable flannel and is dirt-resistant and washable. The sling measures 17″ x 8″ and can comfortably accommodate small-to-medium dragons.
Most importantly, the sling carrier features a 'triangular joint' design and snap buttons to maximize stability and keeps the sling from rotating or dislodging the reptile.
The sling comes with a shoulder strap (suitable for adults and kids) and a buckle for increased utility.
Pros
Reasonably Priced
Useful for dragon owners who like traveling with their pets
Triangular joint fold for increased safety and stability
Easy to wear and take off
Cons
Might not be suitable for owners with juvenile reptiles
Not available in different sizes
Snap fasteners may be problematic for some users
What To Consider When Selecting Gifts for Bearded Dragon Owners
Now that we've gone over our gift list, it's time to focus on how you can select appropriate gifts for dragon owners.
While it's always the thought that counts, getting pet parents gifts they can actually utilize always takes precedence. That's because useful gifts help reptile owners save time, effort, and money regarding caring for their pets.
So, here are some factors you can keep in mind while browsing for gifts, just in case our list doesn't cover what you're looking for.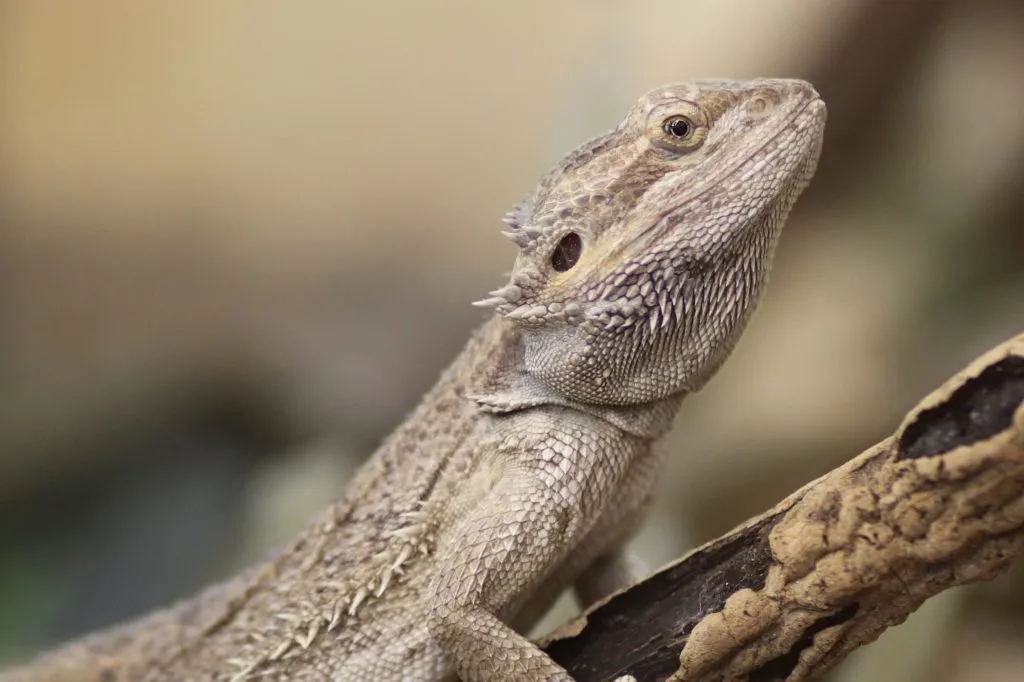 Utility
As stated earlier, buying thoughtful presents beats gag gifts for various reasons. That's primarily because the best gifts are practical and provide utility.
When selecting gifts for bearded dragon owners, look for items that your friends or family members can use.
These include products that are vital for dragon caretaking. For example, you can help your giftee better care for their reptile by providing lighting or heating items.
Other equally valuable items can also include food and water dishes, bathing bowls, leashes, or tank accessories.
Bearded Dragon Specifics
If you're wondering what bearded dragon 'specifics' entails, let us explain. The kind of gift you buy for dragon owners can vary depending on their pets' age or size.
For instance, juvenile bearded dragons are often wary and require time to become socialized. That's why hiding spots such as a cave can make a great gift because it'll match a young dragon's needs.
Similarly, adult bearded dragons might do equally well with spacious bathing bowls that allow for a leisurely soak.
Not only do dragons like soaking in bowls, but they can also function as a water dish and be helpful during sheds.
Suffice it to say, if you get your friend a gift that's inappropriate for their dragon, be it size, weight, or age-wise, it'll defeat the whole purpose.
Tank Size
Another aspect to consider when looking for gifts for dragon owners is tank size. Bearded dragons start small, but they make pretty sizable adults. That's why you might see bearded dragon owners upgrade tank size to keep their pets comfortable.
Tank dimensions are important, especially if you're considering a gift that's part of a terrarium setup. These include heating or lighting fixtures, tank decorations, water and food dishes, etc.
Make sure you have a rough idea about tank size to ensure the gift you purchase corresponds with your friend's tank capacity limitations.
Latest posts by Pierre And The ReptileCraze Team
(see all)