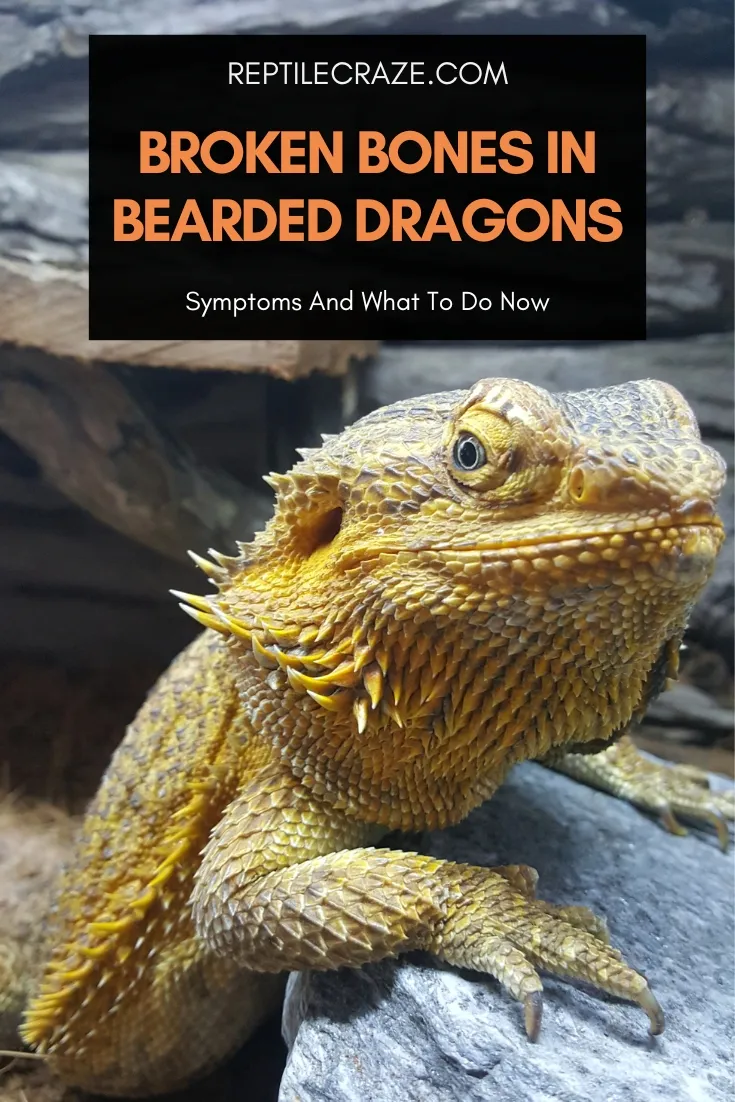 Bearded dragons are popular reptile pets due to their majestic appearance, docile nature, and relatively easy care requirements. However, they are still prone to injuries, including broken bones.
Broken bones or fractures can be caused by falls, improper handling, trauma, and metabolic bone disease. Immediate veterinary attention is needed to assess the extent of the injury, perform the needed medical intervention, and prescribe the necessary recommendations for recovery and ease of pain.
Recognizing the symptoms of broken bones in bearded dragons is important so that immediate action can be taken to provide proper treatment. In this article, we will discuss the common causes and symptoms of reptile fractures, how to address broken bones, and ways to prevent future injuries.
What Can Cause Broken Bones In Bearded Dragons?
Broken bones in bearded dragons can have several causes, the most common of which are traumatic accidents and metabolic bone diseases.
Trauma
Trauma can occur from falls, accidents with other pets, or improper handling. Often, traumatic incidents lead not just to injury, but also anxiety and shock from such stressful situations.
Falls can happen when bearded dragons are left outside their enclosure unattended or manage to escape from a poorly secured terrarium. They can also occur during careless handling.
Improperly handling your bearded dragon or gripping its body too tight can lead to crushing injury.
This can be very painful and deadly for your bearded dragon, especially if a broken bone, such as a rib fracture, pierces through an organ in its body.
In multi-pet households, freak accidents can sometimes happen, such as a much larger pet preying upon the bearded dragon.
But bearded dragons can also inflict trauma upon each other, especially when they are housed together and fight for dominance.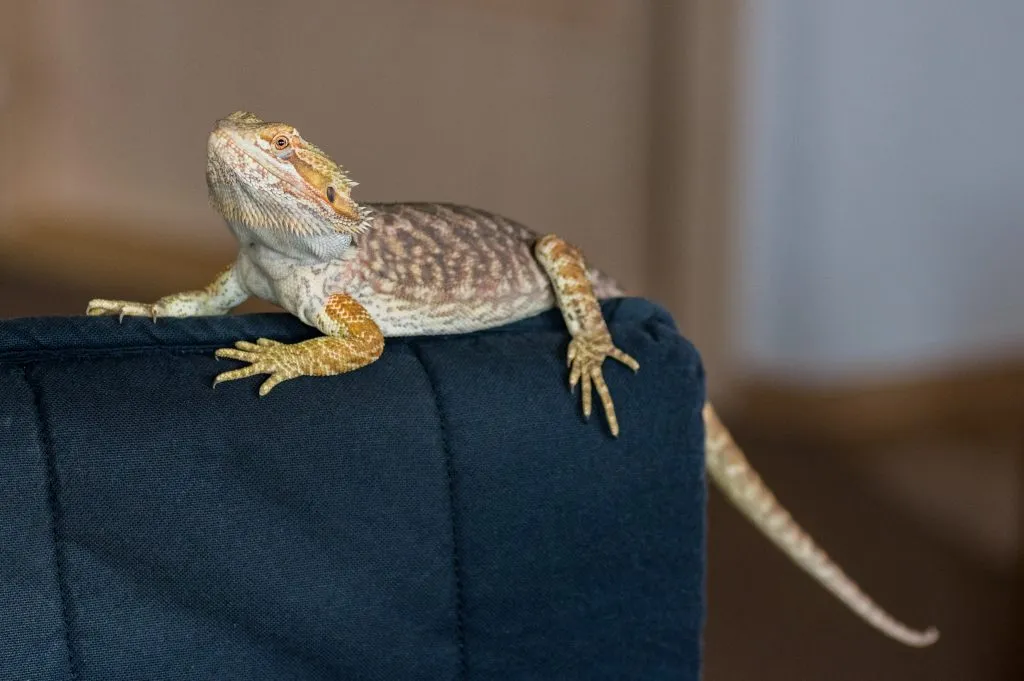 Metabolic Bone Disease
Bearded dragons can also experience the weakening of their bones caused by a deficiency in vitamins and minerals. As a result, the bones become fragile and easily break, even in the absence of trauma.
A very common condition among insectivorous reptiles like bearded dragons is nutritional secondary hyperthyroidism (NSHP).
It is also known as the rubber jaw syndrome because, in many cases, the reptile's jaw becomes soft and rubbery, and the lips droop down to expose the gums.
NSHP is caused by a lack of calcium in the diet and/or low vitamin D3 levels, commonly due to inadequate exposure to ultraviolet-B (UVB) radiation. Consequentially, the bones lose calcium and become weak and brittle.
If your bearded dragon is in a bad state and you are not sure if it is dying, read our article on signs a beardie might be dying and what to do now.
What Are the Symptoms of Broken Bones in Bearded Dragons?
The symptoms of broken bones in bearded dragons can vary depending on the severity and location of the fracture. Some common signs to watch for include:
NSHP that commonly accompanies broken bones in bearded dragons can also manifest other signs and symptoms.
How Serious Can It Be?
The type of fracture and area affected can impact the severity of your bearded dragon's condition. Most reptiles can be tolerant to tail fractures and broken bones affecting the digits.
However, broken bones in the axial skeleton, such as the spine or skull, can be dangerous. Fractures that affect the spinal nerves may lead to an inability to expel uric acid salts and feces.
This can greatly affect the quality of the animal's life.
What To Do If Your Bearded Dragon Has A Broken Bone
If you suspect your bearded dragon has a broken bone, it is important to seek veterinary care immediately.
If you are unable to do so, there are some things you can do to provide first aid and make your pet more comfortable before transport to the vet:
Remember, first aid is not a substitute for professional veterinary care. If your bearded dragon has a broken bone, it's important to seek treatment from a qualified veterinarian as soon as possible.
Early intervention can improve the chances of a successful recovery and prevent further complications.
Why You Should Bring A Bearded Dragon With Bone Fractures To A Vet
Fractures in bearded dragons can be serious and require prompt veterinary attention to assess the severity and provide the necessary medical interventions.
Sometimes, what may look like a minor injury can actually mask a serious, painful condition.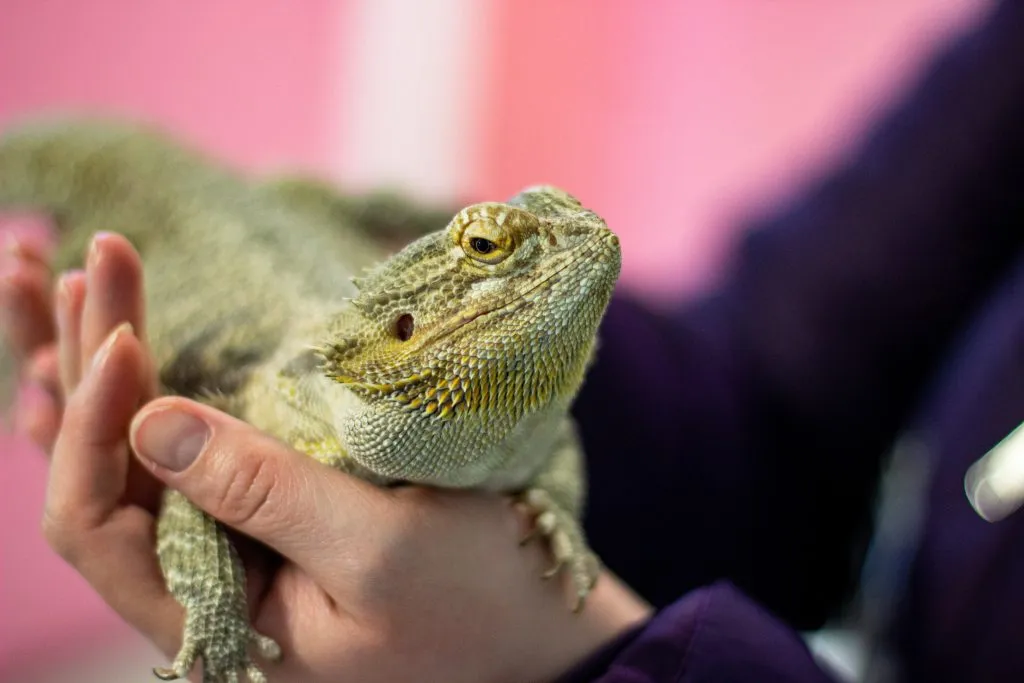 Without proper treatment, your pet may experience complications such as infection, chronic pain, or even permanent disability.
A qualified veterinarian can provide a thorough examination, diagnosis, and appropriate treatment to help your bearded dragon recover from a fracture.
Diagnosis
Physical Examination
Visual examination
Palpation
Neurological examination
Diagnostic Imaging
X-ray or radiography
Blood Work
Complete blood count
Plasma or serum biochemistry
Treatment Interventions
Coaptation
External coaptation (splints, bandages, casts)
Internal coaptation (pins, screws, wires)
Surgery
Amputation
Medications
Pain relievers
Anti-inflammatory
Antibiotics
Vitamin D3 and calcium supplementation
Fluid therapy
Home Care Recommendations
Enclosure modifications
Lower basking and climbing area
Provide soft floor or cushioning
Husbandry modifications
Feed a nutritious diet
Provide adequate UVB lighting
Lessen handling
A veterinarian's toolbox for fractures in reptiles.
Proper Diagnosis
Your veterinarian will likely perform a physical examination to assess the location and severity of the fracture.
They can also professionally assess if your bearded dragon is in pain or if muscles and nerves have been affected.
Moving forward, your vet will recommend some lab tests to further investigate the injury.
Diagnostic imaging such as an X-ray will be necessary to determine the extent of a fracture and identify any other underlying conditions that could affect healing, such as NSHP.
Your vet may also recommend blood work to assess your reptile's overall health.
A complete blood count and biochemistry tests can tell if an animal is sick with something else, such as an infection or stress-induced disease. Blood calcium and phosphorous levels can also be measured to diagnose NSHP.
Treatment Options
The treatment approach for a bearded dragon with a fracture will depend on the severity and location of the injury.
External coaptation or internal coaptation may be necessary to help stabilize and immobilize the affected limb.
In some cases, surgical approaches such as amputation may be necessary to prevent further complications. Medications will be given and sometimes prescribed to help in the recovery.
External and Internal Coaptation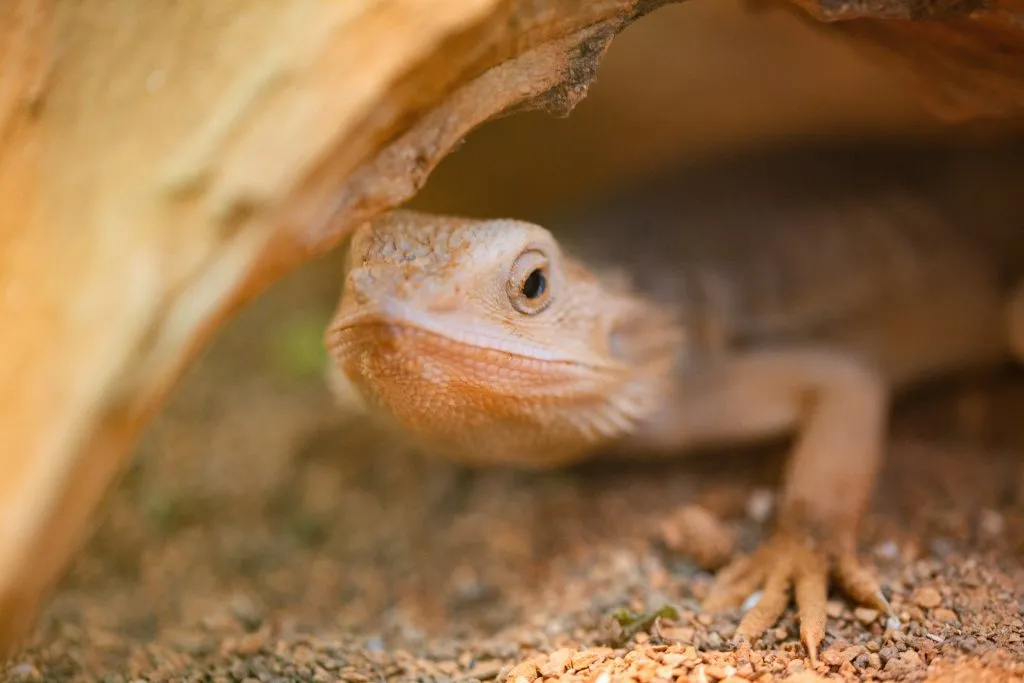 External coaptation involves applying a cast or splint to the affected limb in order to immobilize it and promote healing.
This method is relatively simple and non-invasive, making it a good option for minor fractures or injuries that are not severe enough to require surgery.
External coaptation is ideal for long bones such as the limbs and tail. It has also been used for jaw fracture in bearded dragons with good results.
It can also be less expensive than internal fixation, which requires specialized equipment and expertise.
The material used to immobilize the fractured area is typically changed every 2 weeks and kept on for around 4 to 6 weeks or until progressive recovery is examined on the X-ray.
Internal fixation, on the other hand, involves surgically placing pins, screws, or other hardware inside the affected bone in order to induce proper bone healing.
This method is more invasive than external coaptation, but it can be more effective for severe fractures that require a higher level of stabilization.
Generally, external coaptation is more frequently indicated for reptile fractures in consideration of their small, fragile bones.
It is also recommended whilst internal coaptation is discouraged in patients with NSHP because the bones will be too weak to accommodate the pins and screws.
Surgical Amputation
When the injury is severe, does not respond to medications, or has led to further complications such as infection and chronic inflammation, your vet may recommend surgical amputation to remove the affected part and stop further damage to your bearded dragon's body.
The tail, toes or digits, and limbs such as the arms and legs are common sites of amputation.
Medications
Your veterinarian may prescribe painkillers or anti-inflammatory medication to help manage your pet's pain and reduce swelling. Antibiotics may also be prescribed if there is a risk of infection.
If your bearded dragon is diagnosed with NSHP, your vet will also prescribe vitamin D3 supplementation and recommend some changes in diet and husbandry to corret the nutritional deficiency.
It's important to follow your veterinarian's instructions closely and provide your pet with proper aftercare, including rest, nutrition, and hygiene.
With proper treatment and immediate care, most bearded dragons can recover from a fracture and regain their mobility and quality of life.
Home Care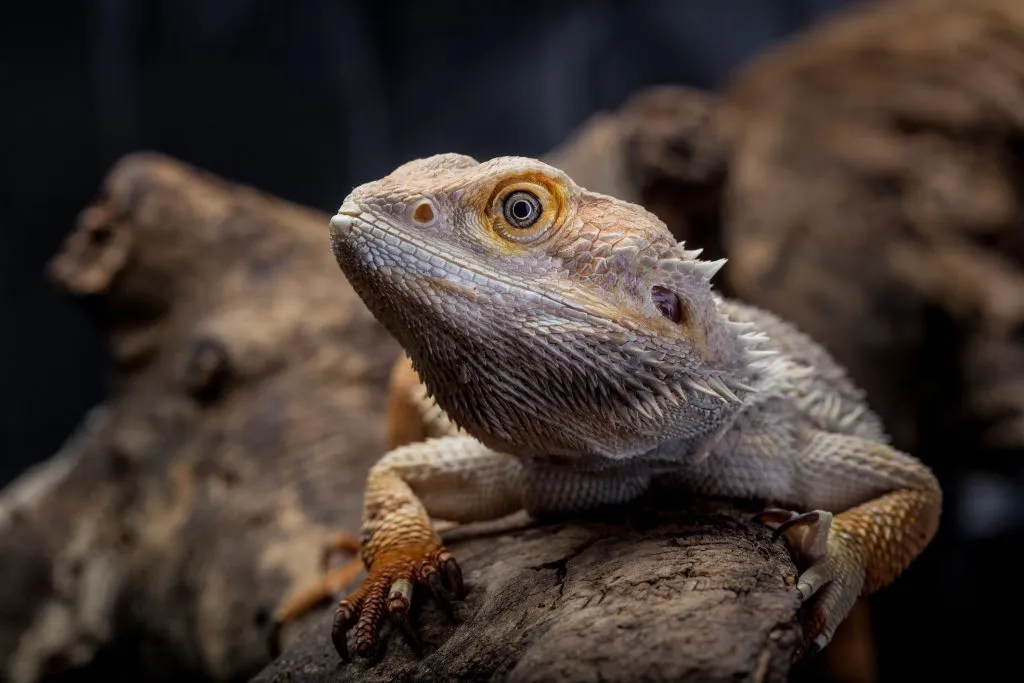 After receiving veterinary care, your bearded dragon will need a comfortable and supportive environment to recover. Your veterinarian may recommend enclosure setup modifications to help your pet heal and prevent further injury.
For example, if your bearded dragon has a leg fracture, you may need to provide a lower basking area or ramps to help them move around. A soft substrate such as towels or foam padding can help provide cushioning for any falls.
It is also important to avoid overhandling your pet or allowing them to climb, jump or do strenuous activity until they have fully healed.
What Happens If I Just Leave It to Heal On Its Own?
If a bearded dragon's fracture is left to heal on its own, the results can be unpredictable and potentially dangerous for the pet.
Without proper medical care, the fracture may not heal correctly. Without coaptation like splints, bandages, or bone pins, there will be a poor alignment of the bone fragments.
Letting the fractured bone heal on its own can lead to deformities or loss of function. Additionally, the bearded dragon may experience chronic pain, infections, and other complications that can impact their quality of life.
How Long Does Fracture Recovery Take?
The length of time it takes for a bearded dragon's fracture to heal depends on several factors, including the location and severity of the fracture, the treatment approach used, and the age and overall health of the bearded dragon.
Generally, bone healing in reptiles takes longer than in mammals and birds.
While most mammals can recover from broken bones in 4 to 8 weeks, and avian species in 2 to 6 weeks, reptiles like the bearded dragon can take anywhere from several weeks to more than 5 months for full fracture healing.
During this time, your veterinarian may recommend regular follow-up consults to continuously monitor your bearded dragon's progress and adjust treatment as necessary.
Interestingly, bone healing in reptiles also occurs differently from mammals and birds, but it is the least understood.
How To Prevent Broken Bones in Your Bearded Dragon
Preventing broken bones in your bearded dragon starts with providing a safe and appropriate environment. Here are some tips to help reduce the risk of fractures in your pet:
Handle Your Bearded Dragon Properly
Learning proper handling and restraint techniques of bearded dragon is essential to avoid future accidents and injuries.
When handling a bearded dragon, you should fully support the body with the palm of one hand, with the fingers gently curved over its back.
Bearded dragons prefer to be held on their bellies, and most would not appreciate being held on their backs.
Do not pick bearded dragons up just by their tail, limbs, or feet.
Tip: In this article, we show you how often you can handle your bearded dragon.
By following these tips, you can help reduce the risk of fractures in your bearded dragon and ensure that they live a healthy and happy life.
Latest posts by Pierre And The ReptileCraze Team
(see all)