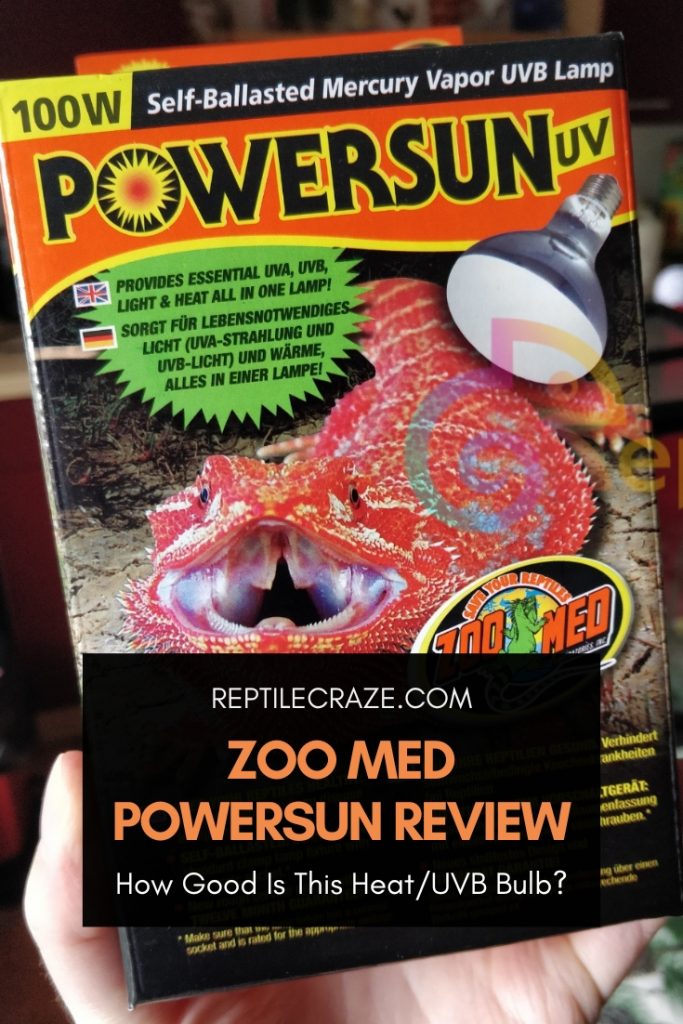 The Zoo Med Powersun is just one of many lighting options for your reptile, but is it the right fit for your enclosure? You need to know how the quality stacks up, what reptiles can benefit from this brand and model, and what other equipment you need to make it work.
Learn more about our recommendations for the Zoo Med Powersun here.
Do We Recommend the Zoo Med Powersun?
In general, the Zoo Med Powersun is a quality light that we do recommend. It has excellent UVI measurements while still giving off a nice bright yellow light.
It is a great option for desert dwellers, as you'll see near the bottom of this review, because the UVB output is quite high.
That being said, the heat produced by this bulb is a bit low, given that it is 100W. In comparison, the Exo Terra Solar Glo got a bit warmer even though the package only advertises it as an 80W bulb.
If heat is of the utmost importance to you, then you may do better with an alternative.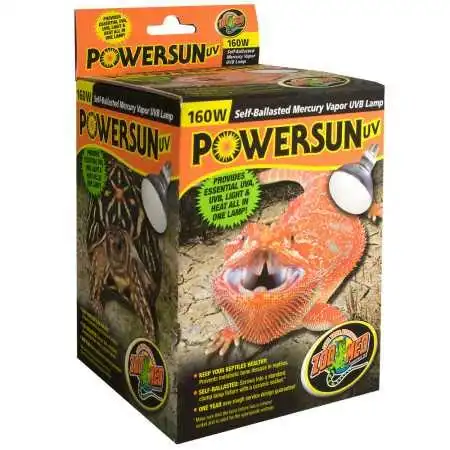 What Does the Zoo Med Powersun Bulb Do?
The promise of the Zoo Med Powersun is that it is an all-in-one mercury vapor lamp that can give your reptiles everything they need. It is self-ballasted, working in any standard clamp fixture to emit UVA, UVB, and heat all at the same time.
This type of mercury vapor bulb is excellent because it is more efficient and lasts longer than other types available on the market.
Keep in mind that this produces a mostly yellow light rather than a bright white that is designed to mimic natural sunlight.
Features of the Zoo Med Powersun
The Zoo Med Powersun arrived to us safely with no issues related to packaging or shipping. Here is what we learned about this bulb in our tests.
Compatible with Any Clamp Fixture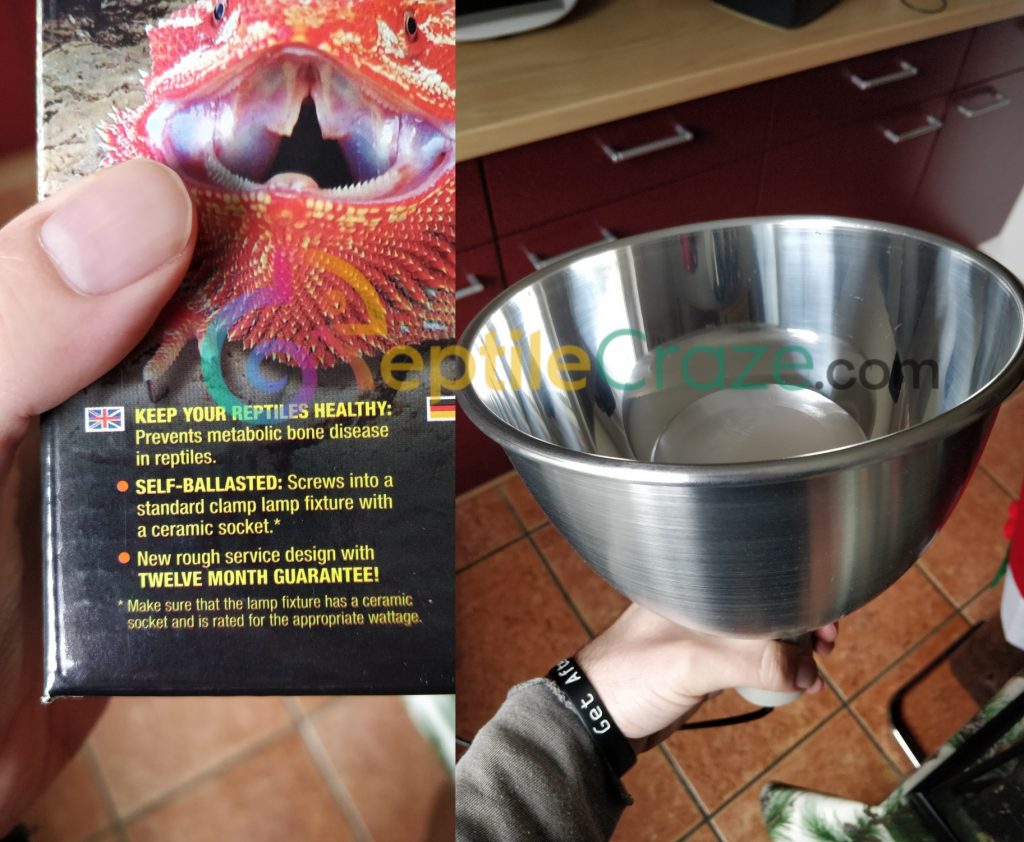 The package say that this bulb should fit into any standard clamp lamp fixture. To test, we put it in an E26 ceramic socket and it worked fine. We recommend using this fixture for this bulb.
However, I wasn't able to turn the bulb at first. I put the bulb out of the socket and drilled it into the socket again, but this time I made sure that I wasn't able to drill any further.
I was a bit scared to break the bulb, but after I did that, the light turned on.
Produces a Bright Yellow Light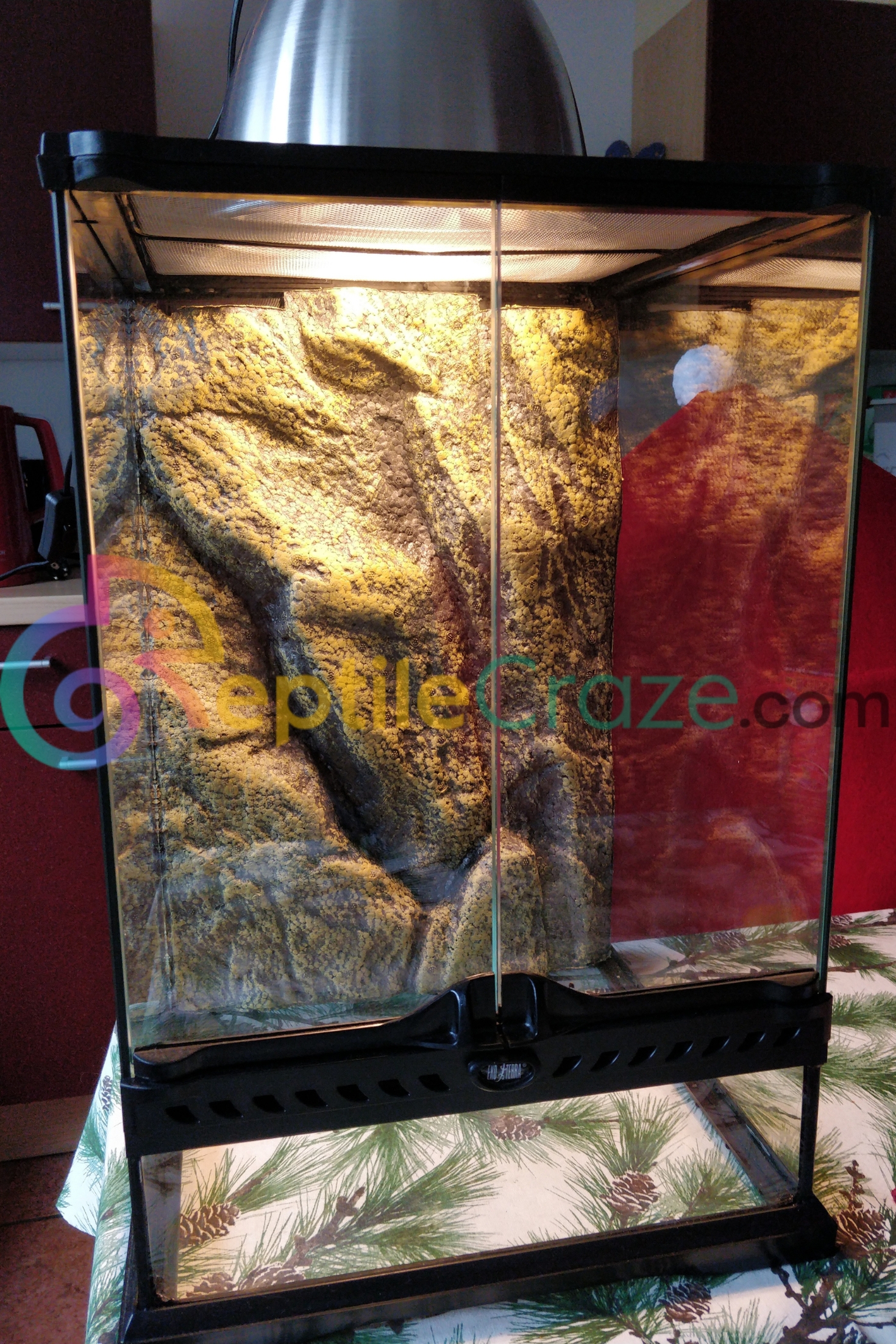 The Powersun produces a very bright yellow light. It is definitely brighter than the Reptisun 10.0 and the Exo Terra Solar Glo.
Nickel-Plated Threads
One important thing to note is that this bulb is made with nickel-plated threads which lessen the likelihood of corrosion in your fixture.
Given the long estimated lifespan of this bulb (up to one year of UVB), you'll be glad for the added protection.
Zoo Med Powersun and Heat and UVB Output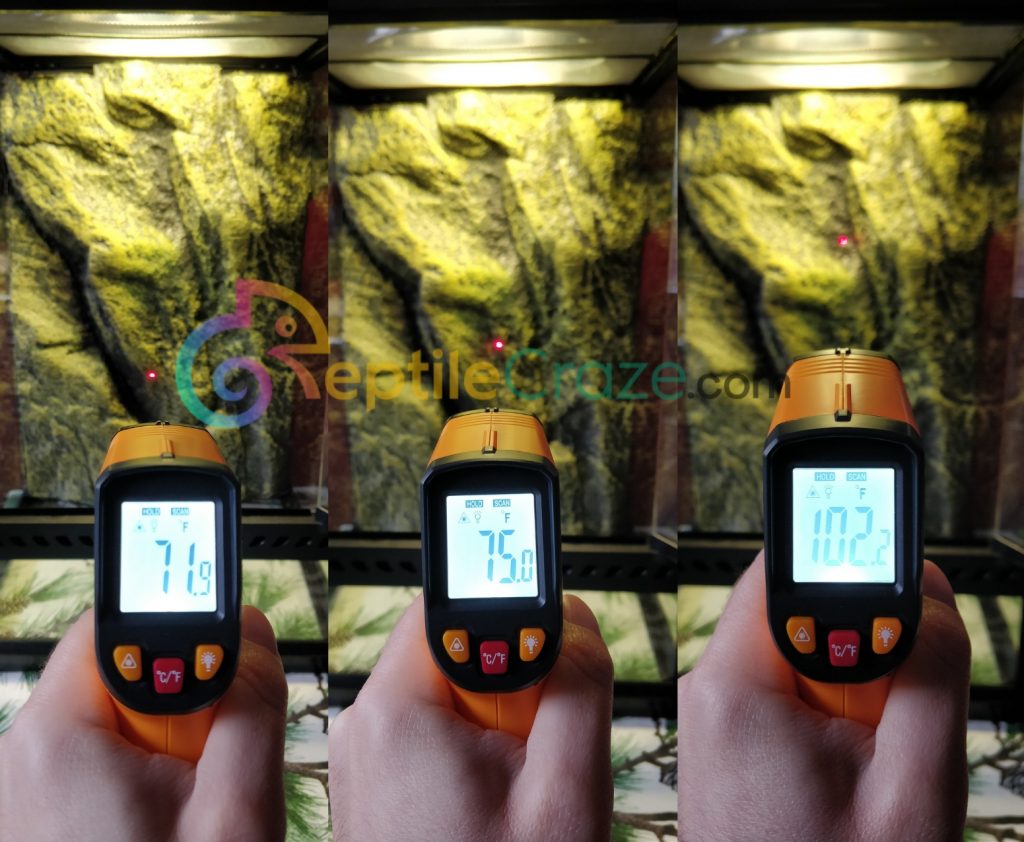 I was a bit suprised since the heat output was lower than expected. It was a bit cold in our appartment when I measured the temperature inside the tank, so I expected the numbers to be a bit lower.
However, I would say that heat output is a tad low. Given the fact that this was a 100W bulb, we got higher numbers with a 80W Exo Terra Solar Glo bulb.
Still, it is okay – the Solar Glo just seems to get warmer than this Powersun.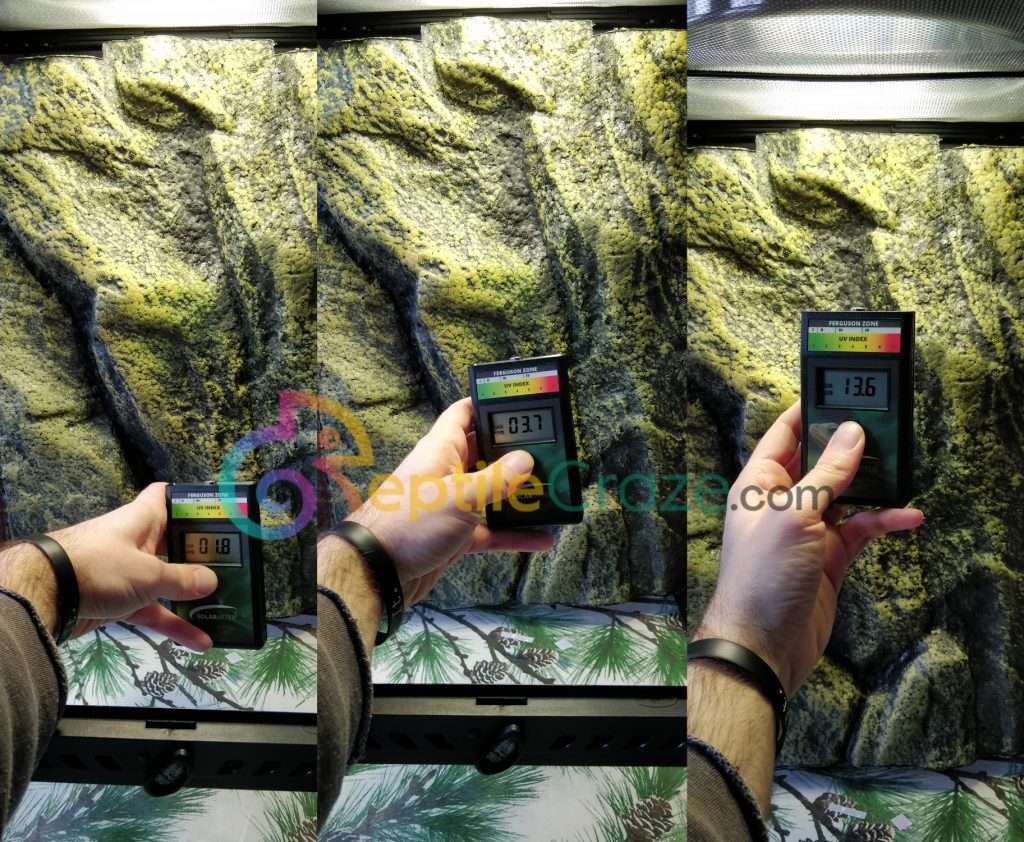 To measure the UV index, we used the SolarMeter 6.5R at the following distances from the enclosure:
30 cm. or 11.8 in.
25 cm. or 9.8 in.
15 cm. or 5.9 in.
The measurements found here can help determine the Ferguson Zone that the bulb is best suited to warm and nourish.
Ferguson Zones are divided into four unique categories numbered one through four. Take a look at this chart to see where the UVI should fall for each zone:
| | | | |
| --- | --- | --- | --- |
| Ferguson Zone | Type of Reptile | Max UVI | Zone Range UVI |
| 1 | Shade Dweller or Crepuscular | 0.6-1.4 | 0-0.7 |
| 2 | Occasional Basker or Partial Sun | 1.1-3.0 | 0.7-1.0 |
| 3 | Partial Sun or Open Basker | 2.9-7.4 | 1.0-2.6 |
| 4 | Mid-Day Sun Basker | 4.5-9.5 | 2.6-3.5 |
The UVI measurements are quite good, so the bulb definitely does what it is supposed to. The measurements are around the same as our measurements from the Exo Terra Solar Glo and the Zoo Med Reptisun 10.0.
This makes the bulb best for desert dwellers who need more sun, but you can use it for any reptile that requires a UV bulb, as long as you make it a priority to test and implement the proper Ferguson zone for their category.
Here are the distances you will need to keep the 100W bulb away from the reptile based on each Ferguson zone:
| | |
| --- | --- |
| Ferguson Zone | Distance from Enclosure (Minimum) |
| 1 | 20-32 inches |
| 2 | 20-32 inches |
| 3 | 10-20 inches |
| 4 | 6-10 inches (not recommended) |
Pros
Powerful bright yellow light with good UVI output
Easy set up in an existing clamp light
Nickel-plated threads prevent corrosion in your lamp
Long lifespan (produces UVB for up to one year)
Cons
Unclear warranty
Meant to be used vertically (as are all mercury vapor bulbs)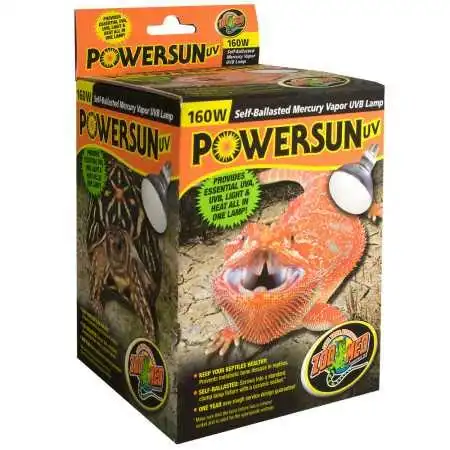 What Reptiles Can Use the Powersun?
Because of the heat output of this lamp and its UVI, it is best suited to desert dwellers who remain in Ferguson Zone 3. These types of reptiles can include:
Uromastyx lizards
Chuckwallas
Desert iguanas
Frilled dragon
Carpet or Panther chameleon
Leopard Tortoise
Green or red iguana
Sand lizard
Striped water dragon
Diamond python
Yellow-bellied slider
Keep in mind that you can use this lamp with any reptile though, as long as you place it close enough or far enough way to create the appropriate Ferguson Zone.
Does The Zoo Med Powersun Have A Warranty?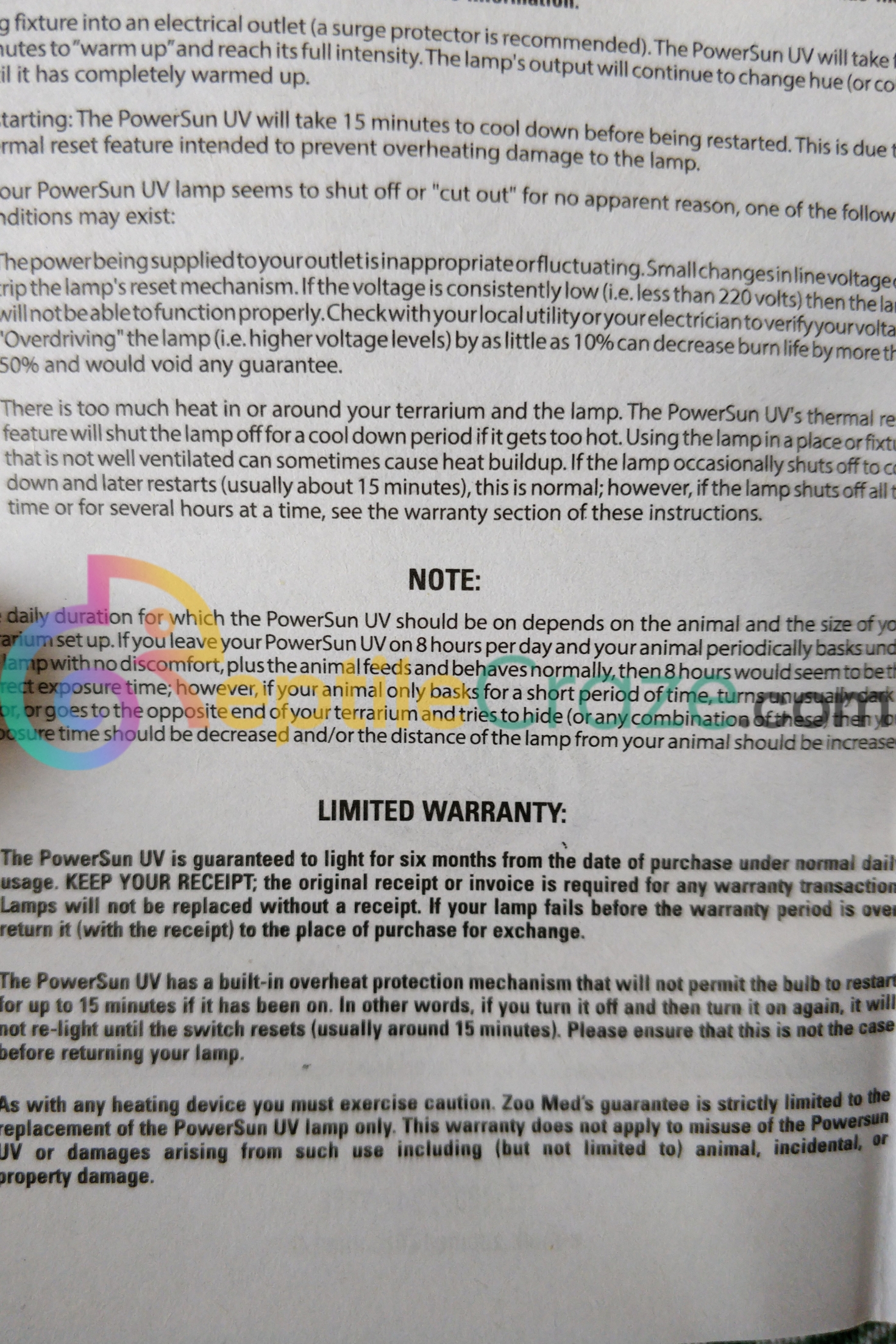 On the package, it says it has a 12-month warranty. In the instructions/manual, it says it only has a 6-month warranty. This is a bit confusing, but I would assume it is only 6 months.
How Often Should You Replace the Powersun?
According to the instructions, this bulb is only designed to last for one year.
While you may get light from it past the 12-month mark, you will likely find that the UVB outputs are significantly lessened after probably 6 months.
If you want to continue to try to use it, be mindful of checking the UVI.
When it dips too low for your reptile, it is time to replace the bulb, no matter how much life it may have left in it.
Recommended Alternatives
While the Zoo Med Powersun works just fine for most reptiles, we recommend the Exo Terra Solar Glo (read our review here).
It puts out a bit more heat despite the fact that is an 80W bulb compared to Zoo Med Powersun's 100W option. It may only last six months, but it features an equally easy setup when a new bulb comes in.
Conclusion
The Zoo Med Powersun is a great option if you want both heating and UVB for your reptile, all-in-one bulb. It is fairly easy to setup and can likely use the equipment that you already have on hand.
Not to mention, it lasts a long time which helps you to justify the investment in a quality bulb for your reptiles.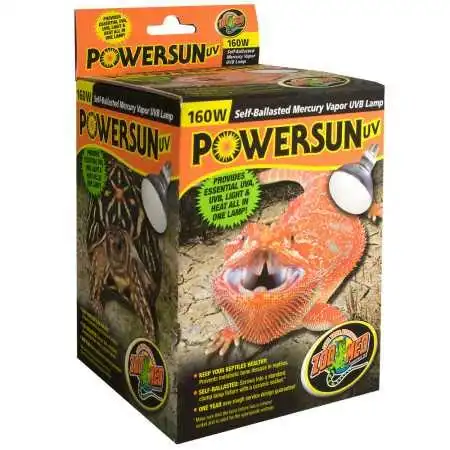 Latest posts by Pierre And The ReptileCraze Team
(see all)