If your reptile requires UVB to synthesize its vitamin D3, you must ensure they have a bulb that will work for them.
The Exo Terra UVB 150 could be just the solution you have been looking for. It provides everything that your reptile needs to stay nourished and metabolize properly.
Learn more about our recommendation for this bulb here.
Do We Recommend the Exo Terra UVB 150?
The Exo Terra UVB 150 provides excellent UVB output for desert-dwelling reptiles. While it does not produce much heat, it can create any Ferguson Zone as long as it is set up properly. This will keep your reptile healthy and happy for the long run.
I would definitely recommend this UVB bulb. The measured UV Index numbers looked great, and the light is bright enough.
Only the packaging looked a bit weak for shipping, but it did arrive intact. The only downside is that many people mention that these bulbs tend to burn out fairly quickly and will need to be replaced more often.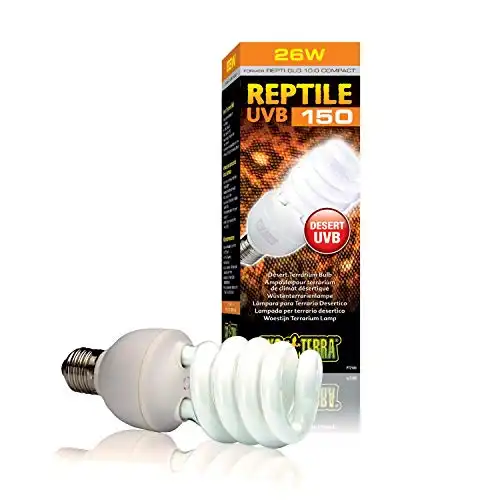 What Does the Exo Terra UVB 150 Do?
The Exo Terra UVB 150 is not a heat-producing bulb. While it does give off some heat, it is mainly known as a UVB bulb. It aids your desert-dwelling reptile in the production of vitamin D3 and optimal calcium metabolism.
Features of the Exo Terra UVB 150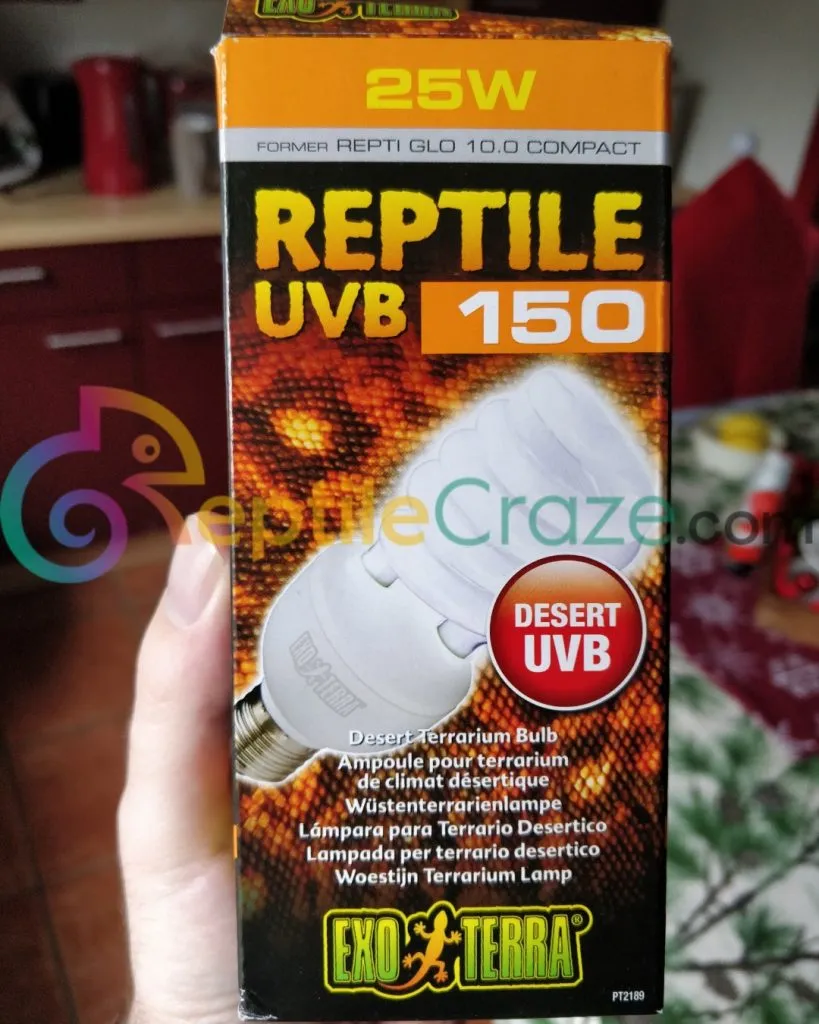 The Reptile UVB 150 was previously called the Repti Glo 10.0, which is mentioned on the top of the package. Either way, here are the main features and concerns that we encountered when trying it out.
Different Levels of UVB
While we tried out the UVB 150 light, you will also be pleased to know that it comes in other versions depending on the amount of UVB your reptile needs.
The 100 may be well-suited for reptiles who need only a small amount of UVB while the 150 and 200 is great for desert dwellers who need tons of UVB for their vitamin D3 photosynthesis.
Compatible with Many Clamp Lamps
The good news is that this bulb isn't so big that you will need an oversized clamp lamp. You can likely get away with using your current setup.
If you are starting from scratch, then you may want to consider the Exo Terra Glow Light Porcelain Clamp Lamp.
Slow Warmup Time but Bright Light
When turned on, the light was quite dark. This bulb needs a couple of minutes until it shows the full light output, as many UVB bulbs do.
The light itself is bright enough. However, for reptiles that need a lot of bright light, like bearded dragons, I definitely recommend adding another light source.
Poor Packaging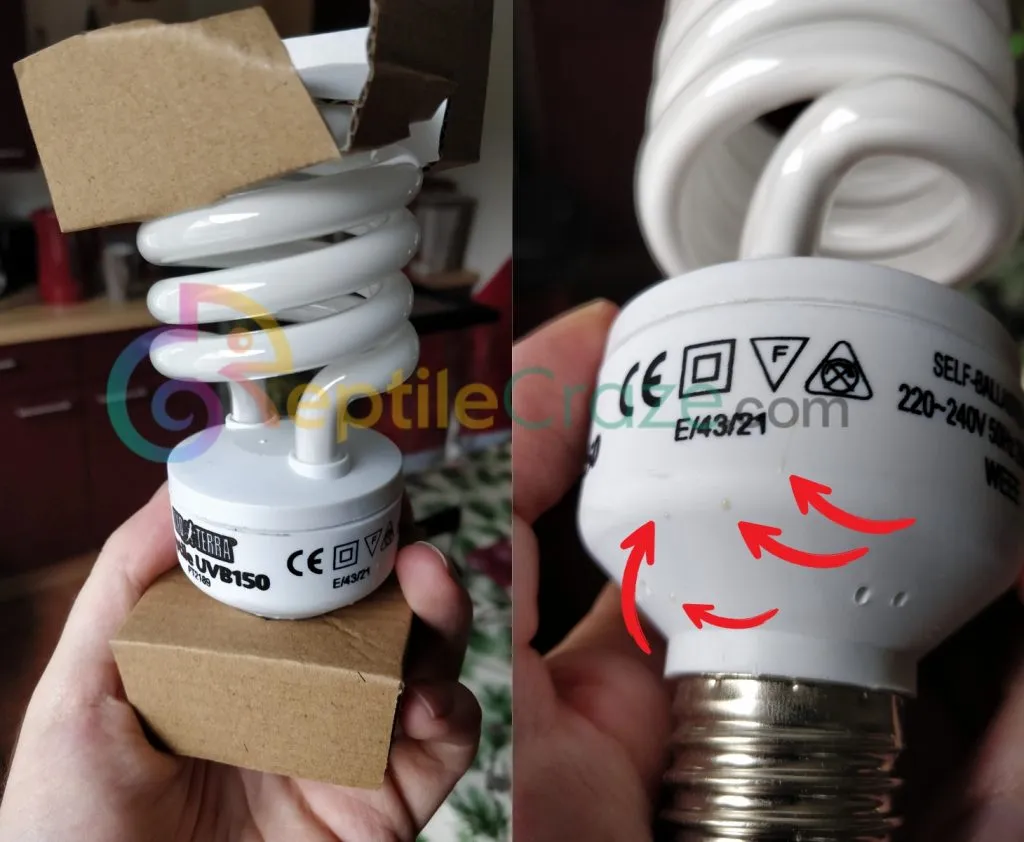 The bulb was delivered without any damage. However, I think that it could be packaged a bit better, especially since those bulbs are pretty fragile.
If you pick it up in a store, this isn't an issue. If you order it online, it could be a problem, though there aren't many complaints about this issue, so we might just be abundantly cautious.
Also, there was some stuff on the bulb. It looked like molten plastic or something like that. I could scratch it off. I don't think that the bulb was used before, so I don't really know what that is.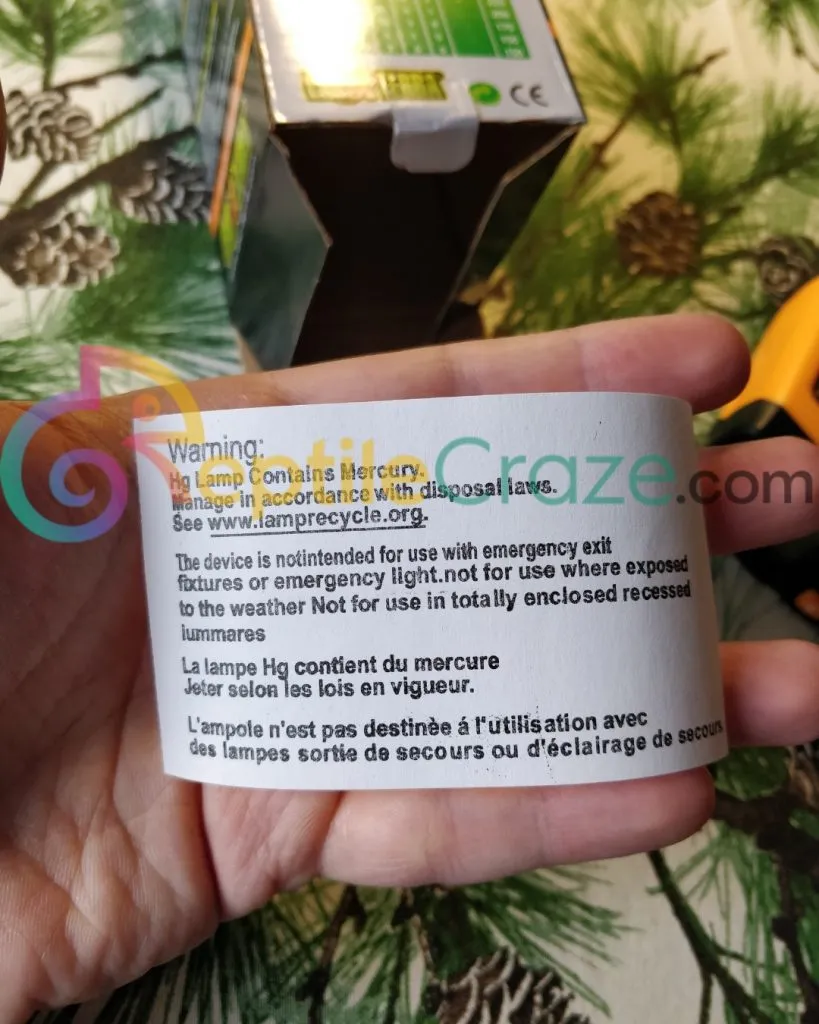 Other than all the other bulbs we have reviewed so far, the Exo Terra UVB 150 came without instructions, except for what you can see above. However, short instructions are readily available on their website, found here.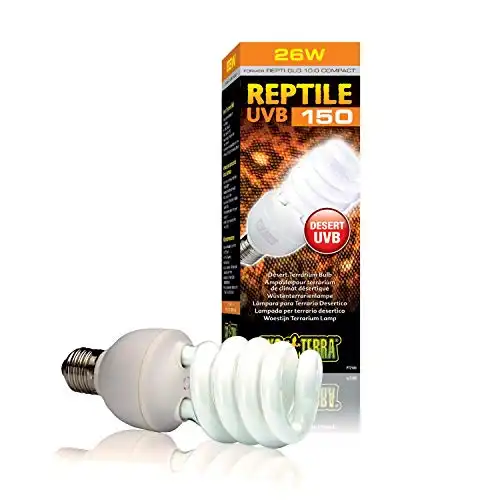 Exo Terra UVB 150 Heat and UVB Output
The Exo Terra Reptile UVB 150 was not made for heating the tank. Still, these bulbs produce a little bit of heat, and I wanted to measure exactly how much.
The left measurement was taken when I turned on the bulb. The other measurement was taken around 20 minutes after that. This might be enough to heat a very small tank if you have a reptile that doesn't need extremely high temperatures.
However, you would probably need to combine that with a higher room temperature (it was pretty cold in my room).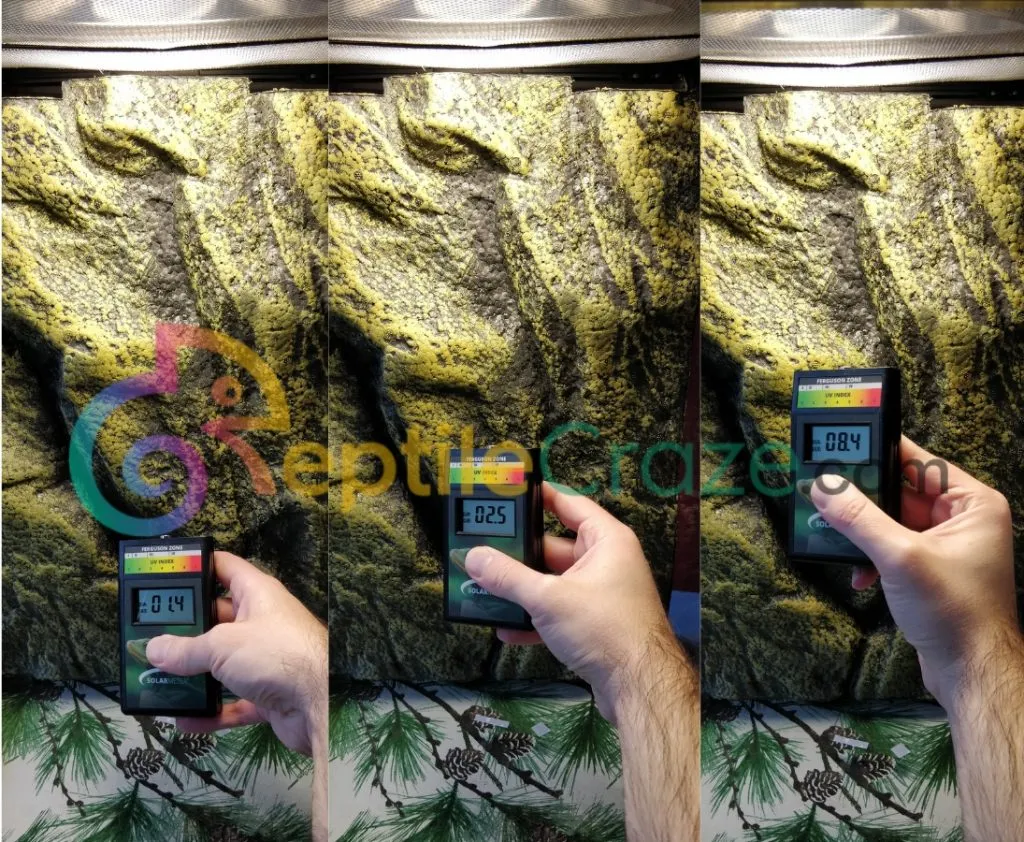 I measured the UV Index with the SolarMeter 6.5 R at distances of:
30 cm. (11.8 in.)
25 cm. (9.8 in.)
15 cm. (5.9 in.)
The measurements included by the SolarMeter can help determine what Ferguson Zone the bulb is best suited for.
At the low end of the spectrum, Ferguson Zone 1 is designed for shade dwellers while a Ferguson Zone 4 reptile is more like a mid-day basker.
Here is what you need to know about UVI output for each Ferguson Zone:
| | | | |
| --- | --- | --- | --- |
| Ferguson Zone | Type of Reptile | Max UVI | Zone Range UVI |
| 1 | Shade Dweller or Crepuscular | 0.6-1.4 | 0-0.7 |
| 2 | Occasional Basker or Partial Sun | 1.1-3.0 | 0.7-1.0 |
| 3 | Partial Sun or Open Basker | 2.9-7.4 | 1.0-2.6 |
| 4 | Mid-Day Sun Basker | 4.5-9.5 | 2.6-3.5 |
The good news is that you can effectively use the light for any reptile, provided that you keep it the proper distance away from your enclosure. It still provides UVB up to 20 inches away from the tank and not through dense screens.
| | | |
| --- | --- | --- |
| Distance from Enclosure | UVB Wavelength | Ferguson Zone |
| 4 inches (10 cm) | 115 | 4 |
| 8 inches (20 cm) | 50 | 3 |
| 12 inches (30 cm) | 25 | 2 |
| 16 inches (40 cm) | 15 | 2 |
| 20 inches (50 cm) | 8 | 1 |
The measurements look fantastic and are comparable to the Zoomed Reptisun 10.0 and the Exo Terra Solar Glo. Those bulbs had the best UVB outputs so far and the Exo Terra UVB 150 is equally good here.
I do recommend buying this bulb for desert dwellers like the bearded dragon since you can reach the correct Ferguson zone for them with a reasonable distance between the bulb and the reptile.
Pros:
Great UVI output
Bright light output
UVB effective even through dense screens (up to 50% filtered out)
Compatible with many different clamp lamps
Different levels of UVB available
Cons:
Poor packaging
May burn out quickly
Requires separate bulb for heating
What Reptiles Can Use the UVB 150?
The Exo Terra UVB 150 is ideal for desert dwelling reptiles, including:
Frilled dragon
Desert iguana
Giant spiny chameleon
Leopard tortoise
Striped water dragon
Yellow-bellied slider
How Often Should You Replace the Exo Terra UVB 150?
Technically, the Exo Terra UVB 150 should last for about a year while producing optimal UVB rays. Many people who purchase this bulb note that it doesn't last quite this long though.
There are many reviews and complaints that it burns out after just a few months. The best thing to do is to buy a backup so that your reptile is never without it.
Personally, I always recommend changing UVB bulbs every 6 months since the UVB output decreases over time. By changing the UVB bulbs every six months you can ensure that your reptile always gets enough UVB.
Conclusion
The Exo Terra UVB 150 is a great bulb for desert-dwelling reptiles like the bearded dragon. It produces a decent UVI though you will need something different to produce heat.
The only complaint is that it could come in sturdier packaging and that it may not last as long as the package indicates. Overall, this is still a highly recommended bulb for your setup!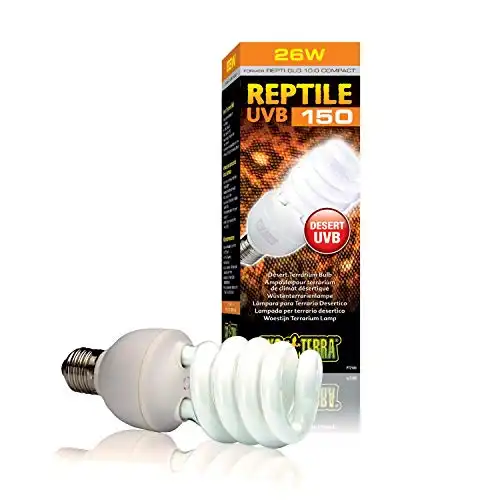 Latest posts by Pierre And The ReptileCraze Team
(see all)