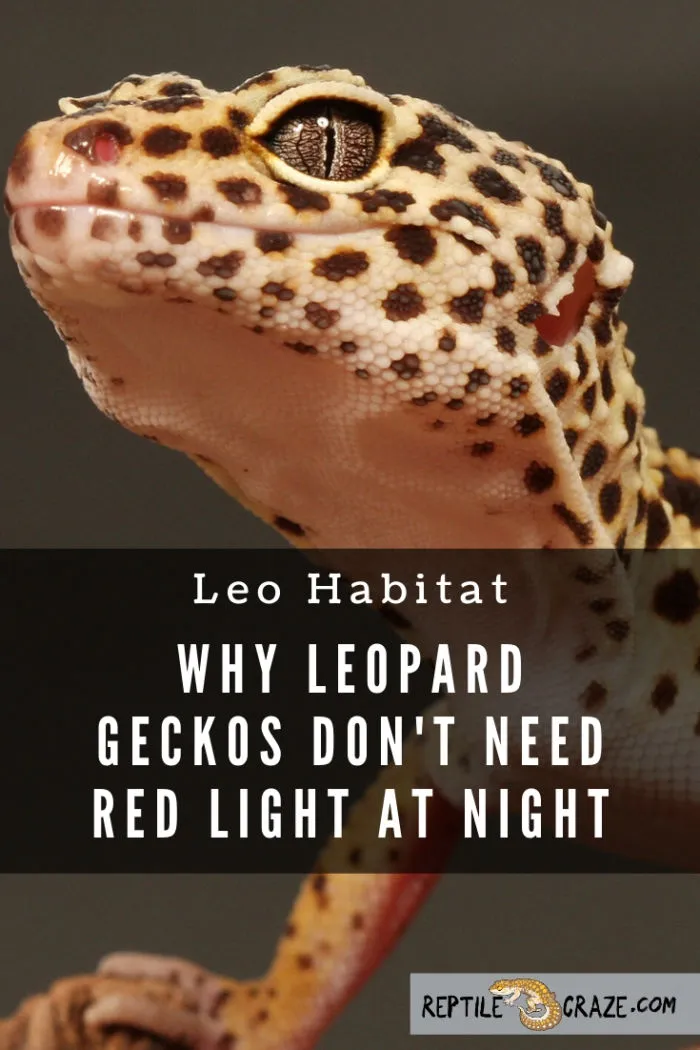 You may be wondering whether red light is necessary as part of your new cage set up for your leopard gecko. Will red light enhance their visibility when they become active at night? Or will it hinder them?
Do leopard geckos need red light at night? No, leopard geckos do not need red light at night. They are able to go about their activity without any aid. Using red light at night will interfere with the day and night patterns of your leopard gecko. Baby leopard geckos are especially sensitive to red night light.
Other keepers of leopard geckos use red night lights? That doesn't necessarily mean its correct and may negatively affect the health of your leopard gecko. Continue reading to find out exactly how red night light sets your leopard gecko back.
Do Leopard Geckos Need Red Light at Night?
Natural daylight is what guides leopard geckos to set their day and night patterns—Leos surface at night when there is no light to forage for food. When the lights go out, this signal prompts leopard geckos to surface and become active.
Having any sort of light, even a red light turned on at night, may confuse your leopard gecko. He may not think its daytime, and the red light may be an indication to stay hidden.
As the new day breaks, the red night light dims out and is replaced with natural, brighter lights. Night has passed, and your leopard gecko may continue to wait for the lights to go out.
This process creates stress for your gecko as he will have issues with his sleep cycle in the long run and may avoid food and water. Thermoregulation may also be an intense task for your leopard gecko if he battles to determine when nighttime will approach.
Red lights at night over a prolonged period poses a problem for any gecko and should be avoided.
Purpose of Red Lights
Keepers of leopard geckos tend to use red lights in their leo's habitat at night. Red lights are known to fulfill viewing purposes for the owners. They have the option of seeing what activities their leos are busy with. Red lights also provide warmth.
Potential Problems Posed by Red Lights
Unlike humans, leopard geckos possess intricate color vision abilities and are able to see color at night as well as perceive the red light radiated from nighttime lamps.
Leopard geckos use their cones for color vision in subdued light. A research paper stated that the red-sensitive cone and oil droplets, allowing geckos the ability to perceive the color red, have been lost.
The same research paper also indicated that they are still able to perceive blue and green light, including ultraviolet light. It can, therefore, be said that any light will disturb their circadian rhythms.
As leopard geckos can actually observe the wavelengths of red light, your leo will be led to think that it is indeed daytime, and this, in turn, will have an effect on their sleep/wake cycles.
Furthermore, leopard geckos, being crepuscular, are also able to perceive into the ultra-violet spectrum and, thus, are disturbed by red light.
They are also able to perceive light differently to humans, and studies have suggested that colors are much more intense and vivid for leopard geckos. Brightly colored reflections are created by a leopard gecko's cone types functioning together.
Thus, a vivid red may be perceived by your leo even though he is not able to see red light. Other cone types will function together to produce an intense red color, or it may potentially be interpreted as bright yellow or an intense white.
Even though this may not indicate that your leopard gecko will remain hidden, it will definitely cause some disruption.
Circadian rhythms may not immediately indicate that your leopard gecko is a little unsettled. However, the red light is bothersome. It should preferably be avoided for the health and wellbeing of your leo.
Crepuscular reptiles such as leopard geckos are thought to not see red light. However, this is not confirmed. Even if they aren't able to view red light, leopard geckos can still see the light itself.
Out of precaution, red night lights should not be used. Once more, protecting the wellbeing of your leo should take precedence.
Limit Duration of Use
Red light should not be used. For keepers who still insist on using red light for viewing their leos at night, use should be limited to a maximum of 2 hours in the early evenings.
Although the lights are disruptive, they can provide a source of heat to leos and regulate the temperature in your leo's habitat. Just don't keep these lights burning all night long.
Leopard geckos need to be able to proceed with their daily routines, so switching off the lights require prioritization on your part! Lethargy and loss of appetite for your leo are consequences which he will suffer if you don't turn off the lights.
Red Light Offering Visibility?
Unbelievably so, leopard geckos are able to see brilliantly at night, without red light! Your leo will carry out his usual activities without any fuss, so there really is no need to be concerned about providing red light.
In the wild, leopard geckos do have subtle light provided by the moon and are not in complete darkness.
In order to simulate your leopard gecko's natural habitat, you can provide light in the form of dull lighting in the hallway of your home that is not directly angled towards your leo's cage.
Or, subdued lighting with a dim night light reflecting from a different spot in the room. Lastly, moonlight reflecting from outside a window and into the room of your leo is ideal too.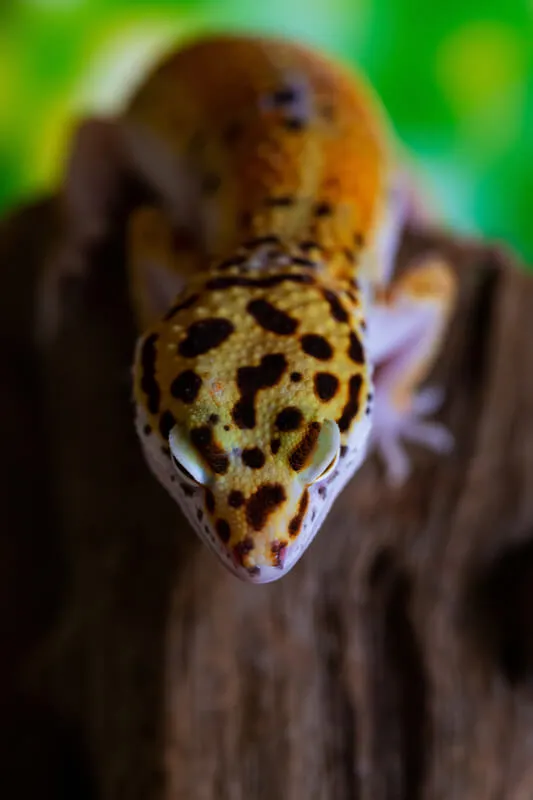 The Importance of Light
Light provides pertinent information to your leopard gecko related to the different weather seasons, including times of the day. Your leo can adapt his activity, accordingly, including daily and seasonal habits, which may relate to their reproductive cycles or being able to thermoregulate.
Leos, being crepuscular creatures, are very much dependent on their awareness of day and nighttime. It is of utmost importance to adequately provide light to your leo, or else he may be negatively affected.
Different parts of your leo's brain, which are responsible for the circadian and the circannual rhythms, receive information from both his eyes, including the parietal eye (also referred to as the third eye).
The brain being sensitive to light also receives information from nightlight or daylight, along with the sun's position.
Natural lighting provided by the complete spectrum of the sun cannot be matched. It is remarkable how it also changes so intricately throughout the day.
Red light pales in comparison to natural light. As the owner of a leopard gecko, you need to make sure you are exposing him to as much natural light as you possibly can to support his wellbeing.
Conclusion
Red lights are not a requirement for your leo, especially if you would like him to maintain his usual circadian rhythm.
Using red light for viewing purposes should be limited to a few hours! Natural lighting is ideal for leopard geckos and can be provided with moonlight shining through a window at night.
Finally, avoid harsh lighting from being directed towards your leo's tank.
Latest posts by Pierre And The ReptileCraze Team
(see all)